Kanye West Meets Kim Kardashian's Family in NYC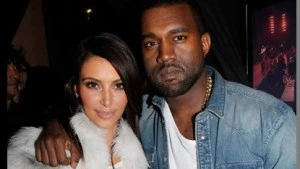 Kanye West met Kim Kardashian's family this past weekend in New York City.
Sources told TMZ that Yeezy met with Kim K's family in NYC on Saturday (April 21) and that the Kardashians "loved him" and thought that the duo make the "perfect couple."
Earlier that same day, the celebrity news site captured photographs of the two eating ice cream and flashing ear-to-ear grins. Saturday night, TMZ caught another picture of the alleged couple exiting Spice Market, a trendy restaurant in the Meatpacking District of Manhattan in New York City.
If TMZ's report is accurate, this weekend had to be an important one for Kanye, who confessed his love for Kim K on the track "Theraflu," which he dropped earlier this month before later renaming to "Way Too Cold."
"And the whole industry wanna fuck your old chick/Only nigga I got respect for is Wiz/And I'll admit, I fell in love with Kim/Around the same time, she fell in love with him/Well, that's cool, baby girl do your thing/Lucky I didn't have Jay drop him from the team," 'Ye raps on the record.
The him that Yeezy refers to is New Jersey Nets forward Kris Humphries, who marriage to Kim Kardashian infamously lasted on 72 days, before the curvaceous beauty filed for divorce last October. Kanye's friend Jay-Z is a minority owner of the Nets franchise that Humphries plays for.
In addition to hanging out with Kim K, Kanye is reportedly still working on his short film, one that the New York Daily News says he's "producing, writing, scoring and directing" in hopes to debut at the Cannes Film Festival in France next month.—Jakinder Singh