Yelawolf Reveals Name of Sophomore LP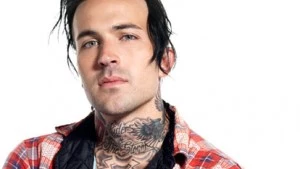 While touring down under, Yelawolf caught up with Australian magazine Rhyme and Reason and opened up on everything from his recent hospitalization, his latest tattoo (a Johnny Cash tribute on his head) and perhaps most exciting, the name of his second studio album, which will be entitled Love Story.
While the Alabama native didn't elaborate too much on what fans can expect on the album, he did indicate Love Story would be a very personal record and that he's "got a lot boiling up, a lot of experiences in the past couple of years" that will be reflected on the set.
When asked about his latest ink, Yela credited his love for Johnny Cash and new girlfriend Fefe Dobson for the inspiration.
"I met a girl named Fefe [Dobson] a while back and we kinda clicked on Johnny Cash and June's relationship," he explained. "I always kinda looked up to Johnny and June and Johnny, particularly, because of his cowboy style, love-one woman-type of thing.. I always kinda like wanted that. [Fefe] just became a very important part of my life. It's changed a lot about me. That tattoo is just to show appreciation and dedication from me to her. And then, also, our understanding of Johnny and June's relationship and how I look up to Johnny Cash as an artist and as a human and how they carried themselves in the public. It winds and winds around. It's a long story but in short that's pretty much what the tattoo is about."
Additionally Catfish Billy revealed that he would begin the recording process for Love Story in June, in Nashville, Tennessee. "I'm just gonna lock down and bring my family back down together," he said about hitting the studio. "I just want to make a classic. Classic is the standard. I'm just trying to make music that will last a lifetime." — Neil Martinez – Belkin (@Neil_MB)