Machine Gun Kelly Excited About Wrestlemania 28 Performance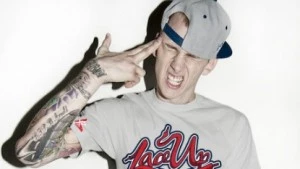 Machine Gun Kelly may be in the midst of the record-breaking Hostile Takeover Tour with Tech N9ne—which has the two MCs doing 90 shows in 99 days—but he's found time to squeeze in additional dates. Earlier this month, the 2012 XXL Freshman took the stage for S.O.B.'s 30-year Anniversary celebration at South by Southwest. Now, Kellz is set to perform at Wrestlemania XXIV this weekend.
"My song 'Invincible' is actually the theme song for John Cena at Wrestlemania and he invited me to perform it down in Miami," MGK told XXL. "That's like the Super Bowl of wrestling, so I'll be there performing."
MGK's wrestling connection runs deeper than his theme song for Cena. Former WWE champion Mark Henry recently attended Kellz's aforementioned SXSW show.
"Mark Henry's my man," MGK offered. "He said he was gonna come check out the show and so is Trae Tha Truth. We met at Monday Night RAW in Cleveland. He's close to one of my management and is also a fan. It doesn't hurt to have a big guy like that on your side to whoop some ass."
Henry was actually spotted stageside taking photos of MGK's performance on his iPhone. "It was the first time he saw [my show]," the "Wild Boy" rapper revealed. "He was probably like, 'What the fuck?'"—Carl Chery (@cchery)