Lil Wayne, Birdman, Mystikal and Others Represent for YMCMB During SXSW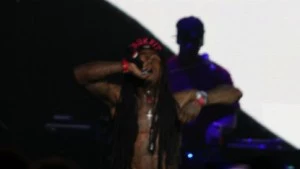 Hip-hop's premiere crew formed like Voltron to celebrate the launch of the Deweezy campaign—a collaboration between Lil Wayne and Mountain Dew—at the Austin Music Hall last night (March 15).
The absence of YMCMB All-Stars Drake and Nicki Minaj did little to taint the event, as Lil Tunechi treated his fans to a nearly hour-long performance.
Weezy emerged sporting a black fitted and a blue t-shirt, but quickly went shirtless. He set things off with the mixtape favorite, "I'm Goin' In" and also performed "A Milli," "Right Above It," "Blunt Blowing," "She Will" and his verse on DJ Khaled's "I'm on One" in the early goings.
Wayne then played host for his roster—bringing out Gudda Gudda and Mack Maine for YM's "Every Girl" and "Bedrock." Wayne mysteriously vanished during the latter—leaving his cohorts to recite most of his verse in his absence.
Birdman then surfaced and drew loud cheers from the crowd with renditions of Big Tymers's "I'm Still Fly" and "Y U Mad" before his son resumed with "Dear John" and his verse off Drake's "The Motto," before closing with "6 Foot 7 Foot." Whispers that Busta Rhymes was set to make a surprise appearance turned out to be false.
New YMCMB addition, Mystikal, did not disappoint either, as the energetic rapper relentlessly strutted across the stage with a jittery two-step. The New Orleans rapper took the audience through memory lane, performing his verse off Master P's "Make 'Em Say Ugh" and "Ludacris's "Move Bitch" as well as solo standouts like "Here I Go," "Shake Ya Ass"and"Bouncing Back (Bumping Me Against the Wall)."
Additionally, Cash Money artist Jay Sean also took the stage. —Carl Chery @XXLCarl