DJ Khaled Drops New Single, Talks New Album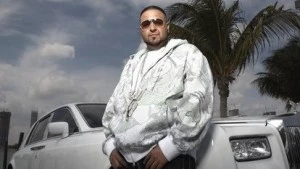 DJ Khaled's "Take It To The Head" became an instant contender for hip-hop song of the summer when it hit the net Monday night (March 26).
Without warning or hype, Khaled casually released his single from his forthcoming LP, Kiss The Ring, via his Twitter account. Once again, the Miami mogul has an anthem that features a bevy of his friends. For this one, he called on Lil Wayne, Rick Ross, Nicki Minaj and Chris Brown.
"Working all Winter, shining all summer. I ain't no beginner, you scared!," Khaled declares as the record  starts. Chris Brown comes in right after and begins the hook "to take it to the head."
Khaled's production team, The Runners, produced the song, but as Khaled described to XXL recently in Miami, he's involved in all aspects of his LP.
"Me, production wise, everything I do concerning my album I'm really producing with another producer or producers," he said in his We The Best Studio.  "My records–and you can tell–are custom made. It ain't like they're off a beat CD.  I come into this room and we get together and great minds create these great records.  It ain't about 'oh it's a hot beat.' Sometimes you can find them like that. But mine been mostly made and had a vision.  Certain ways I want my drums, certain ways I want my hooks."
There is no release date yet for Kiss The Ring, which will mark Khaled's second release on Cash MoneyRrecords. —Shaheem Reid (@ShaheemReid)