XXcLusive: Rick Ross to Drop Two Solo Albums in 2012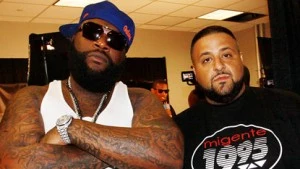 XXL caught up with DJ Khaled at BMI's "How I Wrote That Song" panel discussion during Grammy weekend, and the DJ asserted, that despite delays, Rick Ross' God Forgives, I Don't album is coming very soon.
"It's coming," Khaled told XXLMag.com about the project that was pushed back when Ross suffered two seizures late last year. "We about to give you a [release] date real soon. He was actually in the studio three days ago putting the final touches."
Khaled also revealed that he's been in the studio with Rozay lately, working on another as-yet-titled album the Teflon Don plans on releasing in 2012.
"I'm working on Rick Ross's album, that's also coming in 2012," he said.
Additionally, Khaled is working on his own upcoming Kiss the Ring project as well as protégé Ace Hood's next LP.
"Expect monster hits like 'I'm on One' and 'All I Do is Win,'" he promised about his own set. "And when I say just as big, I mean when it hits radio and clubs it's gonna be huge."
Khaled, who was nominated for a Grammy for his smash hit "I'm on One," said about the nod, "I'm excited. It's my first Grammy nomination. I'm excited I got nominated, so now I can say 'the Grammy-nominated DJ Khaled.' Two thousand eleven was a big year for me and I want to do it again in 2012."—Mariel Concepcion (@mceezy)