Nicki Minaj to Perform Before NBA All-Star Game, Common & J. Cole Participating Too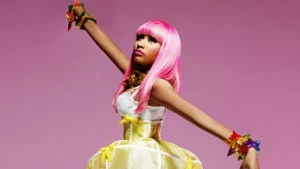 Nicki Minaj will perform during the player introductions of the NBA All-Star Game on Sunday, Feb. 26 in Orlando. According to a press release from the NBA, the Young Money princess will perform her newly-released single "Starships" and smash "Superbass," among other hit records.
This appearance will mark Nicki's third major event performance this February. She first performed during the Super Bowl XLVI halftime show in Indianapolis on Feb. 5 alongside Madonna and singer MIA. Exactly a week later, the Queens native delivered a memorable, but controversial show during the Grammys at the Staples Center in Los Angeles.
Her Grammy performance included her rapping to a priest through a makeshift confessional and ended with her alter-ego Roman being exorcised and levitated into the air.
The performance was deemed controversial by Catholic League president Bill Donohue.
"Perhaps the most vulgar part was the sexual statement that showed a scantily clad female dancer stretching backwards while an altar boy knelt between her legs in prayer," Donohue said in a press release statement.
The week prior, controversy followed Madonna's Super Bowl halftime extravaganza, but it was due to MIA making an obscene gesture to the camera.
That being said, the NBA has trusted that the subsequent trend following Minaj's ground-breaking performances does not bring negative publicity to the league, already holding a shortened season due to a lockout.
Minaj will be one of a several rappers involved in NBA All-Star Weekend, which spans from Friday, Feb. 24-Sunday, Feb. 26. Rappers J. Cole and Common are amongst the stars participating in the All-Star Celebrity Game on Friday. The celebrity lineup for the All-Star Game also includes Mary J. Blige singing the National Anthem and Pitbull performing alongside Ne-Yo during the halftime show.  Will.i.am and Flo Rida are also expected to perform during the Weekend's Saturday competitions and festivities.  —Christian Bonoan