Nicki Minaj Explains Colorful Grammy Performance, Grammy Producer Responds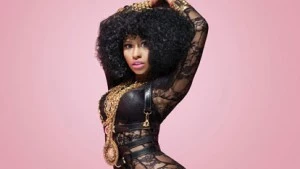 Nicki Minaj shocked Grammy viewers Sunday night (Feb. 12) in Los Angeles by arriving to the show in a Vatican-inspired Red Riding Hood Versace outfit with a priest tagging along beside her. The controversy only grew when her performance began with her rapping to the same priest through a makeshift confessional and later had her alter-ego Roman experience an exorcism.
But less than 48 hours removed from her eye-opening Grammy performance, Nicki Minaj chatted with Ryan Seacrest on Tuesday (Feb.14) to shed light on her set.
"First of all, the Grammys chose 'Roman Holiday,'" Nicki told Seacrest about the song she debuted on Sunday night. "The producers of the Grammys came into the studio, and they heard 'Roman Holiday' and I could not play them another record after they heard that. They went crazy. I could have chosen to do a no-brainer pop song, but I can't do it anymore.
"On the concept of the performance,
I had this vision for him to be sort of exorcised—or actually he never gets exorcised—but people around him tell him he's not good enough because he's not normal, he's not blending in with the average Joe," she continued. "And so his mother is scared and the people around him are afraid because they've never seen anything like him. He wanted to show that not only is he amazing and he's sure of himself and confident, but he's never gonna change, he's never gonna be exorcised. Even when they throw the holy water on him, he still rises above."
In an interview with Gayle King on CBS This Morning, the Grammy's Executive Producer Ken Ehrlich sounded like he felt shaky when approached with Nicki's concept.
"I didn't say 'great," Ehrlich explained. "I looked at it and said 'OK.' I knew about her alter ego and was kind of aware of what that was. I definitely had some questions about that one."
In related news, Minaj continued to build momentum for her Pink Friday: Roman Reloaded album, due Apr. 3, by releasing yet another single in the pop and dance- friendly "Starships." —Jakinder Singh