Nicki Minaj Addresses Critics on New Track, "Roman Reloaded," Featuring Lil Wayne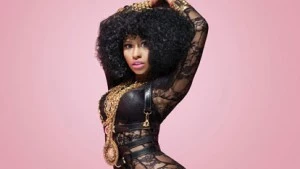 Nicki Minaj's wild "Roman Holiday" performance at the Grammys on Feb. 12 followed by the release of her pop-friendly "Starships" on Valentine's Day (Feb. 14) had the Internet buzzing that perhaps the Young Money Princess was straying away from spitting that raw hip-hop just a little bit.
Well, for anyone who thought that, have no fear. That's because, renowned DJ Funkmaster Flex took to New York City's famed Hot 97 dial Thursday night (Feb. 23) and dropped the bomb on Nicki's new record, "Roman Reloaded," which features Lil Wayne and has the beloved Barbie spitting focused bars and addressing critics at the same time.
"So I laugh at hopefuls—Nicki pop—only thing that's poppin' is my endorsement, ack," spits Nicki, turning the words 'Nicki pop' into an instant trending topic on Twitter.
Later on the same track, Nicki addresses her haters over her Grammy performance, which included a Vatican-inspired Versace dress and came equipped with a priest, whom Nicki rapped to through a makeshift confessional. She also refers to MTV's recently-released annual Hottest MC List, in which she placed fourth for 2011.
"Is it me or did I put these rap bitches on the map again? You mad because I'm at the Grammys with the Vatican/You in the booth, but I'm who you be channelin.' Why they never bring your name up at the panel then?/Hottest MCs, Top 5, you need money? I got mine."
Nicki's bars are followed by an animated Weezy playing closer to the track with his verse.
The track is likely to increase the buildup and anticipation for Nicki's album, Pink Friday: Roman Reloaded, which hits stores on April 3. —Jakinder Singh