Jay-Z and Beyoncé Looking to Trademark "Blue Ivy"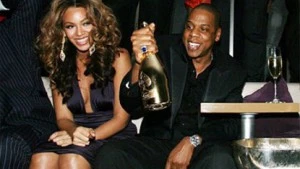 Even when he's being a father, Jay-Z is a businessman and a business, man. It seems that he and wife Beyoncé are attempting to trademark the given name of their newborn daughter, Blue Ivy.
According to the Washington Post, the power couple filed an application with the U.S. Patent and Trademark Office two weeks back, in hopes of both protecting the name and, as reported by the paper, to "reserve it for a future line of baby carriages, baby cosmetics, diaper bags." A few other applications were filed by non-related parties before Hov and Bey got theirs in, but the Office denied all claims, according to WP, saying that they would be misleading if used on product.
Family law attorney and author Vikki Ziegler spoke with MTV News, explaining why the famous couple would take such an action.
"[Seeking the trademark] forestalls competitors from using the child's name and or third parties from attempting to sell the baby's name back to the couple," she said. "They are likely trying to protect what they rightfully own or created, shall we say, by trademarking Blue Ivy's name. In essence, it's a trademark for a brand, and this brand is expected to be one hot commodity— just look at Blue Ivy's parents," Ziegler said. "Anyone else that tried to use the name after the trademark was approved could be sued and held liable for damages."
Because parents are legally authorized to trademark the names of their children that are minors, Jay and Beyoncé shouldn't face any real issues in the process. However, one thing that is out of their hands is that a clothing store in Wisconsin, Blue Ivy, filed for trademark last January and were approved in August. As a result, they can use the name on their store, products, and site. —Adam Fleischer