Cormega Announces Supergroup With Saigon, Action Bronson & Roc Marciano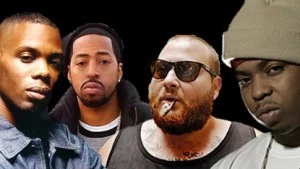 Cormega recently announced the formation of a super rap group on his Legal Hustle YouTube channel.
M.A.R.S., a new Voltron-like unit, will consist of Queens' representatives Action Bronson and Cormega, former XXL Freshman Saigon, and Long Island's own Roc Marciano, formerly a member of Busta Rhymes' Flipmode Squad. The group's name, M.A.R.S., stands for Mega, Action, Roc and Saigon, representing all the members of the newly-formed contingent.
Despite members of the group dropping solo projects as of late, like Saigon's Warning Shots 3: One Foot In The Grave and Action Bronson's project, Well Done produced by Statik, they have decided to formally build as a group.
Mega wants fans to know that despite similarities to former units in the past (The Firm, EMC, The Four Horsemen) this new fearsome foursome look to create a super group like none other. "We're going to show ni**as how to rhyme for real," Mega says in the YouTube clip.
For the first project of the team, the rap game's new rhyme unit linked up to shoot a video, which is a teaser for the new cut titled, "M.A.R.S." The group's most recent banger was produced by Large Professor and the visual, shot in Uptown, was directed by Chris Cook.
It's probable that this group will draw comparisons to Slaughterhouse, which includes another set of four highly-lyrical MCs in Joe Budden, Royce Da 5'9, Joell Ortiz and Crooked I. The four rhymeslingers formed their supergroup back in 2008. They're currently prepping their Welcome To: Our House album on Shady Records, while still pursuing their solo careers, respectively.
M.A.R.S.' full-length video is currently without a release date. Check back with XXLMag.com for new music from M.A.R.S. as it becomes available.–Christian Mordi