Happy Birthday, Lil Wayne!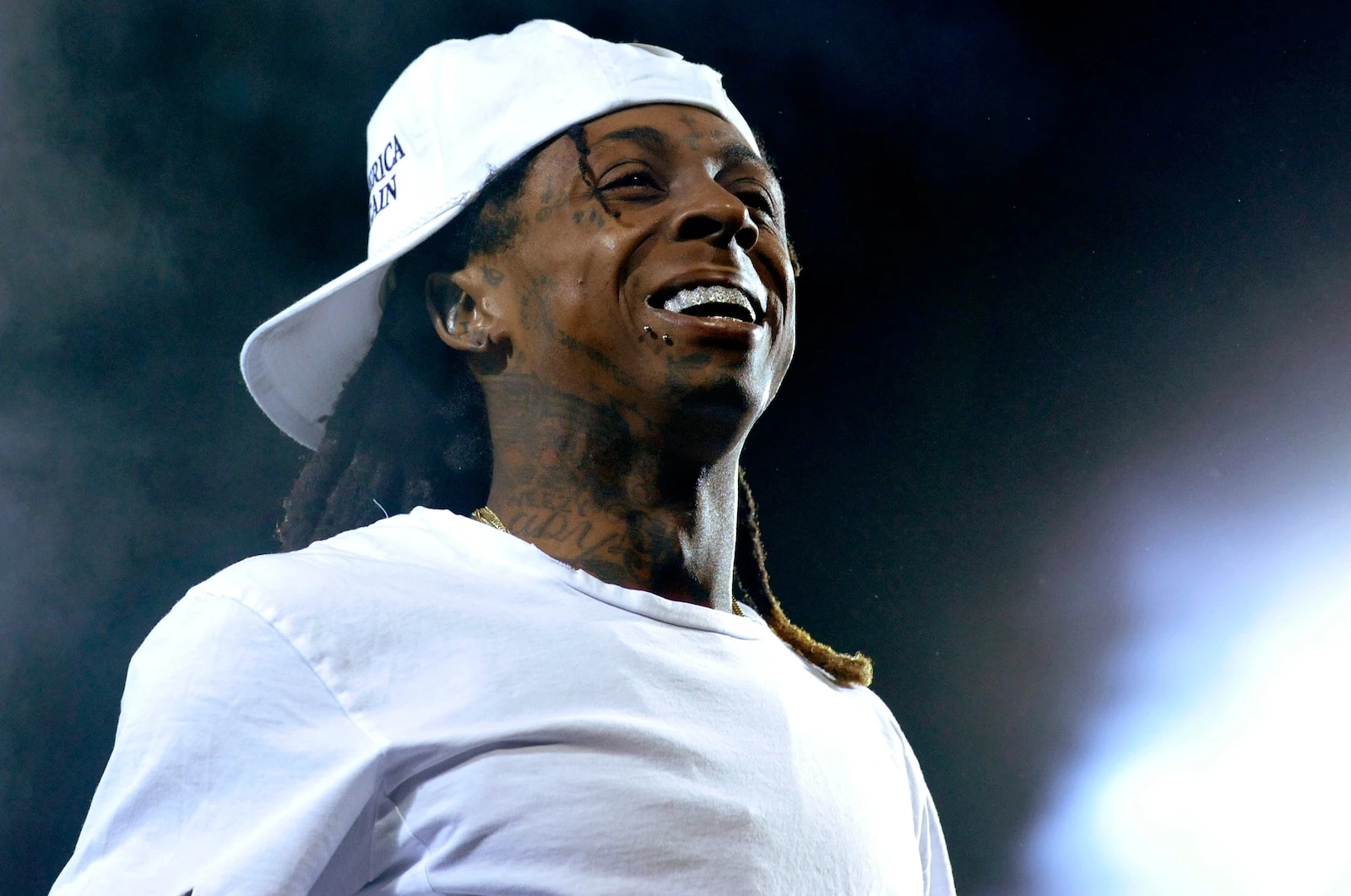 Today, Sept. 27, is the 34th birthday of one of hip-hop's greatest Southern superstars, New Orleans rapper Lil Wayne.
With hilarious analogies, a larger than life personality and a rap career that started before he even hit puberty, Lil Wayne has made himself into one of hip-hop's most recognizable figures. Hollegrove-raised Dwayne Carter Jr. was signed to Bryan "Baby" William's label Cash Money at the age of 10, first appearing in the group Hot Boys with Juvenile, B.G., and Turk. Their major label debut Guerilla Warfare! reached No. 1 on the Billboard 200. They weren't kidding when they said "Cash Money Records taking over the '99 and the 2000's."
By 17, Wayne had dropped his solo debut, 1999's The Block Is Hot, propelled by a gritty infectious song of the same title. The debut peaked at No. 3 on the charts followed by two more strong releases, Lights Out (2000) and 500 Degreez (2002). But it wasn't until 2004 when Wayne really hit his musical stride by introducing Tha Carter series. From 2004 to 2008, the dread-headed grill-grinning rapper became a household name thanks to radio hits and platinum plaques. 2008's Tha Carter III spawned some of Wayne's biggest singles to date, "A Milli," "Got Money" and "Lollipop" and automatically debuted at No. 1 on the Billboard 200. The album is certified triple-platinum and scored Wayne his first Grammy for Best Rap Album in 2009.
Wayne has a proven track record of helping create stars as well. With a distributing deal from Republic Records, Wayne started his Cash Money imprint called Young Money Entertainment in 2007. Since its launch, Young Money has fostered the talents of Drake and Nicki Minaj.
Weezy sparked retirement rumors once in 2014 when he tweeted and publicly said in concert that he wanted off the label that raised him, Birdman's Cash Money. This would start a years-long Cash Money feud between Wayne and Baby that still isn't over to this day. Wayne has accused the Cash Money CEO of holding out on paying him rightfully earned royalties, has sued for $50 million and said "Fuck Cash Money" at numerous public occasions.
Earlier this month, Wayne took to Twitter once again to express his exhaustion of the whole situation and announce he was retiring from the rap game.
"I AM NOW DEFENSELESS AND mentally DEFEATED & I leave gracefully and thankful I luh my fanz but I'm dun," wrote Tunechi.
This tweet prompted many of Wayne's rap comrades Like Rick Ross, Kendrick Lamar and Chance The Rapper to urge Wayne not to quit the game. As of today, fans still don't have Tha Carter V and until he has his money from Baby, Wayne won't have his peace.
Happy Birthday, Weezy! Hope the Libra scales tilt in your favor this year.
The History of Cash Money's Internal Beefs Through the Years
The long, slow breakup of Lil Wayne and Birdman is one of the more painful splits hip-hop has seen. The two go back more than 20 years at this point; Weezy met Birdman as a 10-year-old from Hollygrove while Baby was two years into developing the label that would go on to take over the hip-hop world. Wayne officially signed when he was barely into his teens, growing up under Birdman's tutelage and famously fostering a father-son relationship that has endured throughout the years, even through the huge changes that have affected both Tunechi and Cash Money.
But the Wayne/CM beef isn't even close to the first example of Cash Money bristling at its artists; the label, after all, goes back to 1991 and has morphed through at least five distinct phases: its early years as a local hub in New Orleans; the late-1990s rise of the Hot Boys and Big Tymers and early-2000s flourish after its historic Universal distribution deal in 1998; the mid-2000s blossoming of Lil Wayne into the biggest rapper on the planet; the late-2000s/early 2010s addition of Young Money and the likes of Drake, Nicki Minaj and Tyga, to name a few; and what is left now, with Wayne and Tyga looking to leave, Drake and Nicki hanging in limbo and Birdman making music with young guns like Young Thug and Rich Homie Quan without signing any paperwork with either.
It looks as if, under heavy pressure, Cash Money is evolving again.
XXL
has
covered the recent issues facing Young Money/Cash Money
and its roster of massive stars, but we've been around for long enough to cover Cash Money through the entirety of our 18-year existence as a magazine. 
XXL
was there to see Baby and Slim sign on the dotted line with Universal in what was one of the most important label deals of the past 30 years. We've covered Juvenile, B.G., Turk and the Hot Boys when there was no movement more authentic in the game. We documented the many exits of Juvenile, the production brilliance of Mannie Fresh and the steady rise of Lil Wayne to solo superstardom. And we've been covering Nicki, Drake and the Young Money movement since it was established in 2007. Simply put, there isn't anyone better positioned to cover this than
XXL
.
With the beef between Birdman and his artists continuing to dominate the headlines and former Cash Money artists like Fresh and Turk now weighing in on the struggle, 
XXL
dug back to the beginning to document the painful splits, euphoric reunions and internal beefs that have spilled out into the open over the years. Hitch a ride. —
Dan Rys
cash-money-records-logo

cash money records internal beef history

lil-slim-1080

cash money records internal beef history lil slim

unlv-1080

cash money records internal beef history unlv

juvenile-xxl-cover-2001

cash money records internal beef history juvenile xxl magazine cover

bg-mike-schreiber

cash money records internal beef history B.g.

turk-1080

cash money records internal beef history turk

Joint Chiefs Concert At The Apollo

cash money records internal beef history juvenile 2003

Mannie Fresh

cash money records internal beef history mannie fresh

2012 BMI Urban Awards Honoring Mariah Carey - Red Carpet

cash money records internal beef history bangladesh

106 And Park 2013 New Years Eve Party

cash money records internal beef history bow wow

Lil Twist

cash money records internal beef history lil twist

2013 BET Experience - 106 & Park Live Presented By Coke

cash money records internal beef history tyga

2009 BET Awards - Show

cash money records internal beef history lil wayne

baby-wayne-xxl-cover-2007

cash money records internal beef history birdman speaks
Subscribe to XXL on