XXL Honors 15-Year Anniversary of Tupac Shakur's Death in Sept. Issue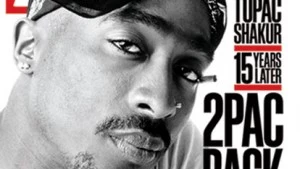 September 13, 2011 will mark the 15-year anniversary of Tupac Shakur's death. XXL pays homage to the beloved, fallen rap legend in the mag's forthcoming September issue, celebrating all things 'Pac.
For the special tribute issue, XXL Editor-In-Chief Vanessa Satten sat down with Tupac's biological father, Bill Garland. Among the interesting and revealing topics discussed, Mr. Garland offered a heartfelt description of his son's giving nature. "[Tupac] cared for people," he said. "That was his main thing. He really cared for people. I think that's why he would get so upset when people tried to question his commitment, his love for Black women or Black men. The East Coast/West Coast, you know, that's a fabrication. I don't have to begin to tell you that. So when that was questioned, it bothered him. Because he would give his heart or soul. He was a giving person. He would give anything to people. He would go in a store. [If there was a] Black man who couldn't afford a $1,500 pair of boots, he would buy 'em for him. Think that Black man would ever forget Tupac? That's just the way he is. But I don't think that he did it for that. He did it because he had it, and he didn't. That's the way he is."
In addition, XXL spoke with 'Pac's ex-wife, Keisha Morris, who shared the intimate details of their relationship. "I knew Tupac," she said. "No one can take that away. I really knew him, and he would never hurt me."
XXL also talked to Tupac's first manager and one-time roommate and mentor, Leila Steinberg, who gave insight into the special nature of her superstar client and their close relationship. There's also an interview with Mutulu Shakur, 'Pac's stepfather who helped raise the MC until the age of 11, who checks in from behind bars to celebrate 'Pac's legacy.
XXL also spoke with 'Pac's group, the Outlawz, dug into the tragic passing of one of the rapper's favorite producers Johnny J. and investigated the real story behind his Quad studio shooting recently brought to light with the confession of ex-Jimmy Henchman associate, Dexter Issac, to the robbery and shooting of Tupac in 1994. And finally, 62 rappers remember 'Pac and speak on his impact and legacy. In addition XXL commissioned famed artist Tim O'Brien to paint an image of the  fallen hero, imagining him at 40-years-old.
Outside of the Tupac tribute, XXL reviews Game's long-delayed, fourth solo LP, The R.E.D. Album, shares some of the jaw-dropping photos from Tech N9ne's All 6s & 7s Tour and introduces Charlie Boy Gang and Chevy Woods in Show & Prove.
Be sure to pick up XXL's September 2011 issue, hitting newststands nationwide on August 16. And don't forget to check back with XXLMag.com, where XXL will be paying tribute to Tupac Shakur with exclusive content every day through September 13. —XXL Staff