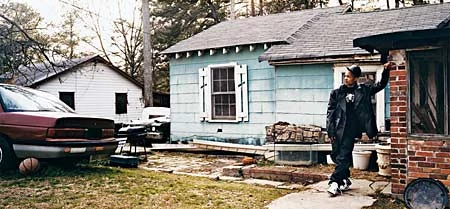 It could start here. With a purpose. "What's the purpose?" he asks. "To inspire, educate and entertain." Maybe he's said this before. He speaks with lessons learned from the receiving end of Miranda rights, a lifetime of knowing that anything said can and most likely will be used against him. So maybe he's thought about it over and over in his head and come up with the perfect sound bite, the pull quote that gets big-lettered treatment in magazine spreads.
But nothing seems quite rehearsed about Clifford "T.I." Harris Jr. Perhaps his brain just works faster than his words. Maybe he stalls for time. Could be he's double-checking for acute comprehension. He's prone to repeat questions thrown at him by people with whom he's not familiar. And his responses are full of qualifiers and clarifications, laden with false starts and U-turns. Nothing erratic or scatterbrained. Charming, good-natured, respectful. He'll make a mistake, go down a wrong road, and then double back. Sometimes he'll even apologize—"excuse me"—before continuing. When asked about mistakes, he replies, "For one, a mistake I made was still being in the streets at such a critical point in my career, back when I had to go away. I was still real—I had kinda like one foot in, one foot out, so to speak. And, I mean, shit—my association with certain people in life, certain moves I made that really didn't have to be made, you know what I'm sayin'?"
He sits in the offices of his record label, Grand Hustle. The label's only been located here—in a warehouse district on the west side of Atlanta, not too far from the Bankhead Highway—for less than a year. The furniture is new, the walls and floors clean. No one is allowed to smoke here. Unless you're with T.I., who's taking light tokes on something inside of a Swisher Sweet cigar.
Until recently, Grand Hustle had been a boutique operation in the smallest way. For about two years, T.I. was the only artist in the stable. But last year, the label released 25 to Life by T.I.'s clique, P$C, and the soundtrack to the pimp-friendly Terrence Howard vehicle Hustle & Flow, which has, musingly enough, garnered an Oscar nomination for Memphis' Three 6 Mafia. The roster now includes close to a dozen acts, including an R&B artist and DJ Drama, creator of the Gangsta Grillz mixtape series.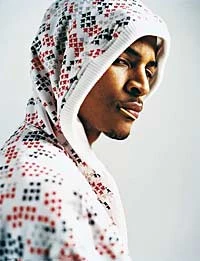 It could start with the music. Without the music, the other things may not have materialized. The entrepreneurial expansion, which includes a construction company and a car-customization shop fancied by young athletes with new money, and the cars in the parking lot, which include a Porsche and a Ferrari, might not be here. If it weren't for the music, he probably wouldn't be headlining, this spring, in video director Chris Robinson's silver screen debut, the Southern coming-of-age tale ATL. It could start with the music, because the music is why he's being questioned by a magazine interviewer and not a federal agent. The music is why we know T.I. And the music has always been exceptional, if not always well-received. His first album, I'm Serious, released in 2001, contained the song "Dope Boyz," which, in a sense, could be considered before its time.
"They was scared of this," says T.I. "At the time, the people, the powers that be, weren't so perceptive to the idea of having real niggas run shit. Not real, real, hard, cold, street, hood niggas who wouldn't change and conform for shit."
"At the time" Atlanta rap was still largely defined by OutKast, Goodie Mob and the rest of the Dungeon Family—most of the rest of the city followed in their wake. Elsewhere in the South, there were regional stars uncompromising in their music—like UGK, Geto Boys, 8Ball & MJG and Three 6—but their national hits, if any, were few and far between. Local acts that wanted to get the attention of the major labels were stuck copying the eccentric funk of 'Kast or the smoothed-out stylings of Jermaine Dupri—the hometowners who defined the look and feel of the city.
"I weren't with that shit for real," says T.I., although he reveres OutKast so much that he will answer a question with a quote from Andre 3000. "Listening to 'Kast, that shit sounds great, them niggas rap like a muthafucka, the production is stupendous. But when I woke up this morning, I saw this," he says, referring to the Trap. The Trap, known to some as the Game, was in him and he was in it. "I had a different take on things. I feel like it was a large amount of people that were being left out. The dope game, it were kind of unheard of. And if you spoke on it, you had to speak on it quietly."