Today In Hip-Hop: R.I.P. Jam Master Jay (January 21, 1965 – October 30, 2002)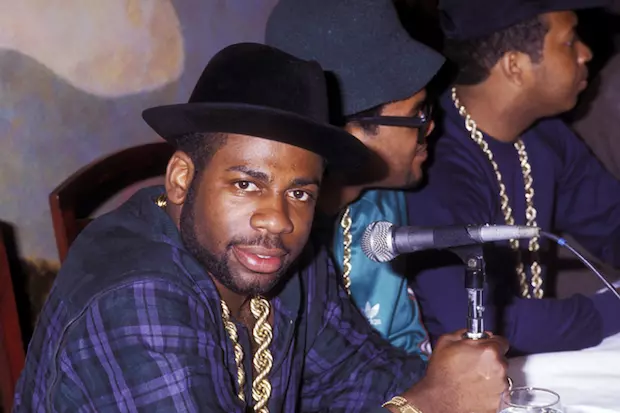 Today marks the 12th anniversary since Jay Master Jay, of the legendary group Run-DMC, passed away. The 37-year-old DJ master was murdered back on October 30, 2002, but the case still remains unsolved.
2002: Jam Master Jay, legendary DJ for Run-DMC, was shot and killed while in a Queens recording studio on October 30, 2002. He was 37 years old at the time.
Real name Jason Mizell, Jam Master Jay had been hanging out at the studio with friends and his assistant when an unknown man dressed in black entered the studio, gave Jay an introductory hug before pulling a .40-caliber pistol on him. The unknown assailant fired two shots, one hitting Jay's friend, Uriel Rincon, in his left leg and the second fired directly into Jay's head killing him before he hit the floor. The unknown man and his accomplice fled the scene after firing the shots.
According to investigators, career criminal Ronald Washington was allegedly involved in the shooting either as the gunman or his accomplice but 11 years later, the murder remains unsolved. Police have suggested that the murder remains unsolved primarily due to lack of witness cooperation and bad press around the shooting. Another proposed motive for the crime that has been suggested is a decade-old drug debt that Jay owed to an old friend Curtis Scoon. Scoon has come forward over the years to deny involvement in the crime.
Despite the lack of arrests made in the case, Jam Master Jay's legacy remains in his work as a pioneering member of Run-DMC. Along with being a founding member of the group, his contributions including mentoring 50 Cent and platinum-selling rap group Onyx.
In 2010, the NY Daily News gave an update on the potential of the case being solved—and it didn't sound promising. "We never really had a good lead," Vincent Santangelo, the head detective on the case, told the the pape. "Nobody would or nobody could tell us the who or what. We're still looking for that person."
Take a look back at DJ Enuff's tribute on Hot 97. Plus, read memories from some celebrated DJ's, from a story originally published in Scratch , in November/December 2005 (as Told To Thomas Golianopoulos).
"Me and Jay go way back. Run-DMC broke me and Will on our first major tour in 1987. He sat down and taught us what to do on the road. 'This is how you take care of your clothes. Be there for sound check.' When I brought my girl on the road, he would introduce himself like, 'How are you doing, I'm Jason.' Jay would grab my son and take him for a walk. He made you feel comfortable. That was Jay.

Me, Jay, Will, Run and D were all really cool. Will had a birthday party a couple of years ago and Run-DMC came out and performed. Only a handful of us got to know how great of a person Jay was. For me, the two turntables an a mixer come second to him being a person. To be in hip hop as long as I am, you develop friendships outside of just admiring somebody musically. It was like, 'I got to thank you for what you did for me and for your friendship.' We're sitting here talking about how two turntables and a mixer have pretty much paved the way for our lives.

Jay was a throwback DJ. When people started using DAT tapes and replay machines to do their shows, Jay used records. It was fun watching the last Run-DMC show I saw, which was at All-Star weekend in Philly. With two turntables and a mixer, Run-DMC went out there and [were] the true essence of hip-hop.

Jay was a member of Run-DMC, he wasn't Run DMC's DJ. He was the third member of that group. No one now has a DJ, and if they do he is hidden. He is not on the records, he's not really a part of it except for the live shows. Me being a DJ, hell yeah I'll speak up for what Jay meant to Run-DMC."
djjazzyjeffandthefreshprince

Tony Touch
RIP Jam Master Jay.—BJ Steiner and Adam Fleischer