Here Are the Credits for Drake's 'More Life'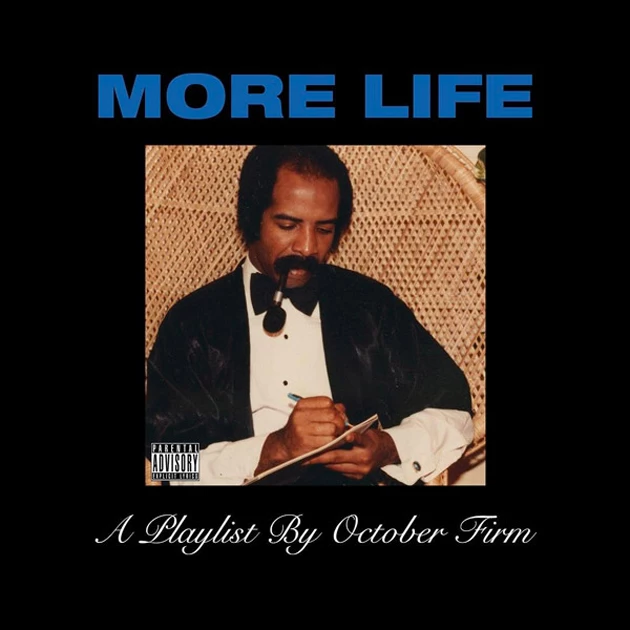 Drake has released More Life and there are a bunch of collaborators on the "playlist," from Kanye West and Young Thug to 2 Chainz and Quavo.
Below are the credits for the album, including songwriters and producers. The only song that doesn't have complete information is "Skepta Interlude." XXL has reached out to Drake's reps for comment.
1. "Free Smoke"
Preliminary Publisher Information:
Sandra Gale/EMI Pop Music Publishing (GMR), 1damentional Publishing LLC/ Sony/ATV Tunes LLC (ASCAP), Ritter Boy (ASCAP), Universal Music Corp obo itself and 50 Cent Music (ASCAP, Yonabon/Warp Publishing (ASCAP), Downtown DMP Songs (BMI)
Written by A. Graham
Written by M. Samuels
Written by A. Ritter
Written by M. Bernard
Written by B. Antoine
Written by D. Sewell
Written by P Bender
Written by S. Mavin
Written by P. Moss
Written by N. Saalfield
Sample Credits:
Contains samples from "Roll Up" written by Marvin Bernard, Bryan Antoine, Daniel Sewell published by Universal Music Corp obo itself and 50 Cent Music (ASCAP) and Warp Music Ltd (ASCAP)
Contains samples of "Roll Up" performed by Tony Yayo ft. Danny Brown, Courtesy of G-UnitRecords Contains excerpts from "Building A Ladder" written by Paul Bender, Simon Mavin, Perrin Moss, Naomi Saalfield published by Downtown DMP Songs (BMI). Used by permission.
Excerpts from "Building A Ladder" performed by Hiatus Kaiyote courtesy of Sony Music Entertainment.
Produced by Boi-1da for 1da Boi Productions
Additional production by Allen Ritter for Ritter Boy, LLC
Recorded by Noel Cadastre for Evdon Music Inc. at Sandra Gale Studios, Yolo Estate, CA
Additional Vocals: Baka Not Nice
Mixed by Noel "Gadget" Campbell for Evdon Music Inc. / T.O. Music Group at SOTA Studios & Studio 306, Toronto, ON
Miscellaneous Credits:
Additional Music by Akira Woodgrain
(P) 2017 Young Money Entertainment/Cash Money Records
2. "No Long Talk" Feat. Giggs
Preliminary Publisher Information:
Sandra Gale/EMI Pop Music Publishing (GMR), Jason Thompson Publishing Designee (PRS), Murda Beatz (SOCAN), Sony/ATV Music Publishing Allegro Germany (GEMA), Sony/ATV Music Publishing Allegro Germany (GEMA)
Written by A. Graham
Written by N. Thompson
Written by S. Lindstorm
Written by T. Gomringer
Written by K. Gomringer
Produced by Murda Beatz
Co-Produced by Cubeatz
Recorded by Noel Cadastre for Evdon Music Inc. at Four Seasons, Toronto, ON
Giggs Vocals Recorded by Dirty Saj & Carl "Dennis" Willets at Sarm Studios, London UK
Mixed by Noel "Gadget" Campbell for Evdon Music Inc. / T.O. Music Group at SOTA Studios & Studio 306, Toronto, ON
Miscellaneous Credits:
Giggs appears courtesy of SN1 Records
(P) 2017 Young Money Entertainment/Cash Money Records
3. "Passionfruit"
Preliminary Publisher Information:
Sandra Gale/EMI Pop Music Publishing (GMR), IMHOTEP/Sony/ATV (PRS)
Written by A. Graham
Written by N. Rogues
Produced by Nana Rogues for NPAP Ltd.
Recorded by Noel Cadastre & Noah Shebib for Evdon Music Inc. at Sandra Gale Studios, Yolo Estate, CA & SOTA Studios, Toronto, ON
Assistant Recording Engineer: Gregg Moffett at Sandra Gale Studios, Yolo Estate, CA & SOTA Studios, Toronto, ON
Additional Vocals: Moodymann
Additional Vocals: Zoe Kravitz
Mixed by Noel "Gadget" Campbell for Evdon Music Inc. / T.O. Music Group at SOTA Studios & Studio 306, Toronto, ON
(P) 2017 Young Money Entertainment/Cash Money Records
4. "Jorja Interlude"
Preliminary Publisher Information:
Sandra Gale/EMI Pop Music Publishing (GMR), Mavor & Moses Inc./Kobalt Music Publishing (ASCAP), Jorja Smith Publishing Designee
Written by A. Graham
Written by N. Shebib
Written by D. McLean
Written by J. Smith
Sample Credits:
"Jorja Interlude" contains an interpolation from "Doing It Wrong" performed by Drake
Produced by Noah "40" Shebib for Mavor & Moses Inc.
Recorded by Noel Cadastre for Evdon Music Inc. Recorded at Sandra Gale Studios, Yolo Estate, CA
Mixed by Noel "Gadget" Campbell for Evdon Music Inc. / T.O. Music Group at SOTA Studios & Studio 306, Toronto, ON
(P) 2017 Young Money Entertainment/Cash Money Records
5. "Get It Together" Feat. Black Coffee and Jorja Smith
Preliminary Publisher Information:
Sandra Gale/EMI Pop Music Publishing (GMR), Nyan King Music / EMI Music Publishing (SOCAN), Mavor & Moses Inc./Kobalt Music Publishing (ASCAP), Sony/ATV UK
Written by A. Graham
Written by P. Jefferies
Written by N. Shebib
Written by B. Nqwiliso
Written by N. Maphumulo
Sample Credits:
Contains Elements of Black Coffee
Produced by Nineteen85 for Summer of 85 Inc.
Additional production by Noah "40" Shebib
Outro Produced by STWO
Recorded by Noel Cadastre for Evdon Music Inc. Recorded at Sandra Gale Studio, Yolo Estate, CA & SOTA Studios, Toronto, ON
Mixed by Noel "Gadget" Campbell for Evdon Music Inc. / T.O. Music Group. Mixed at SOTA Studios & Studio 306, Toronto, ON.
Miscellaneous Credits:
Jorja Smith appears courtesy of FAMM
(P) 2017 Young Money Entertainment/Cash Money Records
6. "Madiba Riddim"
Preliminary Publisher Information:
Sandra Gale/EMI Pop Music Publishing (GMR), Nyan King Music / EMI Music Publishing (SOCAN) / Adam Feeney Music/Nyan King Music Inc / EMI April (SOCAN), Charlie Handsome Publishing Designee
Written by A. Graham
Written by P. Jefferies
Written by A. Feeney
Written by C. Handsome
Produced by Frank Dukes & Nineteen85
Recorded by Noel Cadastre for Evdon Music Inc. Recorded at Sandra Gale Studio, Yolo Estate, CA & SOTA Studios, Toronto, ON
Mixed by Noel "Gadget" Campbell for Evdon Music Inc. / T.O. Music Group. Mixed at SOTA Studios & Studio 306, Toronto, ON.
(P) 2017 Young Money Entertainment/Cash Money Records
7. "Blem"
Preliminary Publisher Information:
Sandra Gale/EMI Pop Music Publishing (GMR), Brother Bagz Publishing (BMI) / Warner-Tamerlane Publishing Corp. (BMI), Brenda Richie Publishing (ASCAP) and Brockman Music (ASCAP)
Written by A. Graham
Written by T Williams
Written by L. Ritchie
Sample Credits:
Contains interpolations from "All Night Long" written by Lionel Richie published by Brenda Richie Publishing (ASCAP) and Brockman Music (ASCAP)
Produced by T-Minus for T-Minus Music, Inc.
Recorded by Noel Cadastre for Evdon Music Inc. Recorded at Sandra Gale Studio, Yolo Estate, CA & SOTA Studios, Toronto, ON
Mixed by Noel "Gadget" Campbell for Evdon Music Inc. / T.O. Music Group. Mixed at SOTA Studios & Studio 306, Toronto, ON.
Miscellaneous Credits:
Additional Music by Frank Dukes
(P) 2017 Young Money Entertainment/Cash Money Records
8. "4422"
Preliminary Publisher Information:
S. Sisay Publishing Designee, F. NguyenTran (SOCAN)
Written by S. Sisay
Written by F. NguyenTran
Produced by FrancisGotHeat
Vocals: Sampha
Mixed by Noel "Gadget" Campbell for Evdon Music Inc. / T.O. Music Group. Mixed at SOTA Studios & Studio 306, Toronto, ON.
Miscellaneous Credits:
Sampha appears courtesy of Young Turks Recordings
(P) 2017 Young Money Entertainment/Cash Money Records
9. "Gyalchester"
Preliminary Publisher Information:
Sandra Gale / EMI Pop Music Publishing (GMR), István Megyimórecz pub. Des./Hip Hopville USA, Administered by Songs of Kobalt Music Publishing (BMI), Hip Hopville USA,
Administered by Songs of Kobalt Music Publishing (BMI)
Written by A. Graham
Written by I. Megyimorecz
Written by R. Brooks
Produced by iBeatz
Recorded by Noel Cadastre & Harley Arsenault for Evdon Music Inc.
Mixed by Noel "Gadget" Campbell for Evdon Music Inc. / T.O. Music Group
Additional Background Vocals by Baka Not Nice
Miscellaneous Credits:
Recorded somewhere in Gyalchester Mixed at SOTA Studios & Studio 306, Toronto, ON
(P) 2017 Young Money Entertainment/Cash Money Records
10. "Skepta Interlude"
Written by A. Graham
Written by N. Rogues
Produced by Nana Rogues for NPAP Ltd.
Recording Engineer: MSM
Mixed by Noel "Gadget" Campbell for Evdon Music Inc. / T.O. Music Group
11. "Portland" Feat. Quavo and Travis Scott
Preliminary Publisher Information:
Sandra Gale/EMI Pop Music Publishing (GMR), Q. Marshall Publishing Designee,
J. Webster Publishing Designee, Murda Beatz (SOCAN), Sony/ATV Music Publishing Allegro Germany (GEMA), Sony/ATV Music Publishing Allegro Germany (GEMA)
Written by A. Graham
Written by Q. Marshall
Written by J. Webster
Written by S. Lindstorm
Written by T. Gomringer
Written by K. Gomringer
Produced by Murda Beatz
Co-Produced by Cubeatz
Recorded by Noel Cadastre for Evdon Music Inc.
Travi$ Scott vocals recorded by Travi$ Scott at Cactus Jack Studios, Los Angeles
Quavo vocals recorded by Quavious at YRN Factory, Atlanta
Mixed by Noel "Gadget" Campbell for Evdon Music Inc. / T.O. Music Group
Miscellaneous Credits:
Recorded at Sandra Gale Studios, Yolo Estate, CA Travi$ Scott appears courtesy of Grand Hustle/ Epic Records, a Division of Sony Music Entertainment Quavo appears courtesy of 300 Entertainment /
Atlantic Recording Corporation Mixed at SOTA Studios & Studio 306, Toronto, ON
(P) 2017 Young Money Entertainment/Cash Money Records
12. "Sacrifices" Feat. 2 Chainz and Young Thug
Preliminary Publisher Information:
Sandra Gale/EMI Pop Music Publishing (GMR), Ty Epps Music/ Reservoir Media (ASCAP), J. Williams Publishing Designee, Brother Bagz Publishing (BMI) / Warner-Tamerlane Publishing Corp. (BMI), Published by T-Minus Music, Inc. (SOCAN)
Written by A. Graham
Written by T. Epps
Written by J. Williams
Written by T. Williams
Written by D. Johnson
Produced by T-Minus for T-Minus Music, Inc.
Additional Production by Deejae for T-Minus Music, Inc.
Recorded by Noel Cadastre for Evdon Music Inc.
2 Chainz vocals Recorded by Noland Presley at Street Execs Studios
2 Chainz vocals Mixed By Finis "KY" White at Bass Recording Studios
Young Thug Vocals Recorded by Charles "Bricks" Driggers at Metropolis Studios, London, UK
Mixed by Noel "Gadget" Campbell for Evdon Music Inc. / T.O. Music Group
Miscellaneous Credits:
Mixed at SOTA Studios & Studio 306, Toronto, ON Recorded at The Conservatorium Hotel, Amsterdam 2 Chainz appears courtesy of The Real University (T.R.U.)
/Def Jam Recordings, a division of UMG Recordings, Inc. Young Thug appears courtesy of 300 Entertainment / Atlantic Recording Corporation
(P) 2017 Young Money Entertainment/Cash Money Records
13. "Nothings Into Somethings" 
Preliminary Publisher Information:
Sandra Gale/EMI Pop Music Publishing (GMR), R. Martinez Publishing Designee,
N. Jahanbin Publishing Designee, P. Jahanbin Publishing Designee, E. Panford Publishing Designee
Written by A. Graham
Written by R Martinez
Written by N. Jahanbin
Written by Paimon Jahanbin
Written by E. Panford
Produced by G. Ry
Produced by Wallis Lane
Additional production by Edgar Nabeyin Panford
Recorded by Noel Cadastre for Evdon Music Inc.
Mixed by Noel "Gadget" Campbell for Evdon Music Inc. / T.O. Music Group
Miscellaneous Credits:
Recorded at Sandra Gale Studios, Yolo Estate, CA Mixed at SOTA Studios & Studio 306, Toronto, ON
(P) 2017 Young Money Entertainment/Cash Money Records
14. "Teenage Fever"
Preliminary Publisher Information:
Sandra Gale/EMI Pop Music Publishing (GMR), Alice Island Music Publishing Inc. / Sony/ATV Tunes LLC (SOCAN), EMI April Music (ASCAP)
Written by A. Graham
Written by M. Thomas
Written by J. Lopez
Written by R. Jerkins
Written by F. Jerkins III
Written by L. Daniels
Written by C. Rooney
Sample Credits:
"Teenage Fever" contains a sample from "If You Had My Love" performed by Jennifer Lopez.
Produced by Hagler
Recorded by Noel Cadastre for Evdon Music Inc Recorded at Sandra Gale Studios, Yolo Estate, CA
Mixed by Noel "Gadget" Campbell for Evdon Music Inc. / T.O. Music Group at SOTA Studios & Studio 306, Toronto, ON
(P) 2017 Young Money Entertainment/Cash Money Records
15. "KMT" Feat. Giggs
Preliminary Publisher Information:
Sandra Gale/EMI Pop Music Publishing (GMR), Jason Thompson Publishing Designee (PRS), Cameron Shaikh Publishing Designee (ASCAP), Courtney Clayburn Publishing Designee (BMI)
Written by A. Graham
Written by N. Thompson
Written by C. Shaikh
Written by C. Clayburn
Sample Credits:
"KMT" contains a sample from "Sonic The Hedgehog – His World-Original version, courtesy of SEGA Group" "KMT" contains a sample from "Shutdown – Live From London" performed by Skepta
Produced by Produced by Ness & Chef Pasquale
Recorded by Noel Cadastre for Evdon Music Inc.
Giggs Vocals Recorded by Dirty Saj & Carl "Dennis" Willets
Mixed by Noel "Gadget" Campbell for Evdon Music Inc. / T.O. Music Group at SOTA Studios & Studio 306, Toronto, ON
Miscellaneous Credits:
Giggs appears courtesy of SN1 Records
(P) 2017 Young Money Entertainment/Cash Money Records
16. "Lose You"
Preliminary Publisher Information:
Sandra Gale/EMI Pop Music Publishing (GMR), Mavor & Moses Inc./Kobalt Music Publishing (ASCAP), Alice Island Music Publishing Inc./ Sony/ATV Songs LLC (SOCAN)
Written by A. Graham
Written by N. Shebib
Written by S. Vidal
Produced by Noah "40" Shebib & STWO
Recorded by Noel Cadastre for Evdon Music Inc.
Recorded by Noah "40" Shebib for Evdon Music Inc.
Assistant Recording Engineer: Gregg Moffett
Mixed by Noel "Gadget" Campbell for Evdon Music Inc. / T.O. Music Group at SOTA Studios & Studio 306, Toronto, ON
(P) 2017 Young Money Entertainment/Cash Money Records
17. "Can't Have Everything"
Preliminary Publisher Information:
Sandra Gale/EMI Pop Music Publishing (GMR), Jazzfeezy Publishing/BMG Rights Management (SOCAN), Steve Samson Publishing Designee (SOCAN)
Written by A. Graham
Written by J. Singh
Written by S. Samson
Produced by Jazzfeezy & Steve Samson
Recorded by Noel Cadastre & Harley Arsenault for Evdon Music Inc. at Sandra Gale Studios, Yolo Estate, CA & Hyatt Regency, Birmingham
Mixed by Noel "Gadget" Campbell for Evdon Music Inc. / T.O. Music Group at SOTA Studios & Studio 306, Toronto, ON
(P) 2017 Young Money Entertainment/Cash Money Records
18. "Glow" Feat. Kanye West
Preliminary Publisher Information:
Sandra Gale/EMI Pop Music Publishing (GMR), Please Gimme My Publishing/EMI Blackwood Music Inc. (BMI), Mavor & Moses Inc./Kobalt (ASCAP), EMI April Music Inc. (ASCAP), Downtown DMP Songs (BMI), Sony/ATV Songs LLC (BMI), WB Music Corp. (ASCAP) Kobalt Music (ASCAP)
Written by A. Graham
Written by K. West
Written by N. Shebib
Written by L. King Jr
Written by M. Yusef
Written by J. Sakiya Sandifer
Written by N. Goldstein
Written by Phillip Bailey
Written by Maurice White
Written by Aubrey Graham
Written by Carlo Montagnese
Written by Majid Al Maskati
Written by Gabriel Garzón-Montano
Written by Anthony Jeffries
Written by Ilsey Juber
Written by Kenza Samir
Written by Noah Shebibm Jordan Ullman
Written by C. Young
Sample Credits:
Contains samples from "Devotion" written by Phillip Bailey and Maurice White published by EMI April Music Inc. (ASCAP). Used by permission.
All rights reserved. Excerpts from "Devotion" performed by Earth Wind & Fire courtesy of Sony Music Entertainment.
Contains excerpts from "6 8" performed by Gabriel Garson-Montano, Courtesy of Styles Upon Styles, Inc. Used by Permission. Contains excerpts from "Jungle" performed by Drake courtesy of Universal Music Enterprises.
Produced by Noah "40" Shebib for Mavor Moses Inc.
Produced by Kanye West
Additional Production by Noah Goldstein
Recorded by Noel Cadastre, Noah Shebib & Harley Arsenault for Evdon Music Inc. & Noah Goldstein at SOTA Studios, Toronto, CA, Park Hyatt, Paris & No Name Studios, CA
Assistant Engineer: William Sullivan
Mixed by Noel "Gadget" Campbell for Evdon Music Inc. / T.O. Music Group at SOTA Studios & Studio 306, Toronto, ON
Miscellaneous Credits:
Kanye West appears courtesy of Getting Out Our Dreams II, LLC
(P) 2017 Young Money Entertainment/Cash Money Records
19. "Since Way Back" Feat. PARTYNEXTDOOR
Preliminary Publisher Information:
Sandra Gale/EMI Pop Music Publishing (GMR), Party OMO ltd. / Warner Chappell Music (SOCAN), Mavor & Moses Inc./Kobalt Music Publishing (ASCAP),R. Martinez Publishing Designee, M. Hutchison Publishing Designee, M. Surio Publishing Designee, Universal Music Z Songs (BMI), Campbell Kids Publishing/WB Music Corp (ASCAP)
Written by A. Graham
Written by J. Brathwaite
Written by N. Shebib
Written by R. Martinez
Written by M. Hutchison
Written by M. Surio
Written by R. Kelly
Written by W. Campbell
Sample Credits:
Contains Sample of "Clipped Wings" performed by R. Kelly
Produced by G. Ry & PARTYNEXTDOOR & Noah "40" Shebib
Co-Produced by M3rge
Additional Production by Top FLR
Recorded by Noel Cadastre for Evdon Music Inc. at Sandra Gale Studio, Yolo Estate, CA
PARTYNEXTDOOR Vocals recorded by PARTYNEXTDOOR
Mixed by Noel "Gadget" Campbell for Evdon Music Inc. / T.O. Music Group at SOTA Studios & Studio 306, Toronto, ON
Miscellaneous Credits:
PARTYNEXTDOOR appears courtesy of OVO Sound/Warner Bros. Records.
(P) 2017 Young Money Entertainment/Cash Money Records
20. "Fake Love"
Preliminary Publisher Information:
Brittany Hazzard/People Over Planes/These Are Songs Of Pulse (ASCAP) Sandra Gale/EMI Music Publishing (GMR), Vinylz Music Group /
Sony ATV (ASCAP), Adam Feeney Music/Nyan King Music Inc / EMI April (SOCAN), Brittany Hazzard/People Over Planes/These Are Songs Of Pulse (ASCAP)
Written by A. Graham
Written by A. Hernandez
Written by A. Feeney
Written by B. Hazzard
Produced by Vinylz
Produced by Frank Dukes
(P) 2016 Young Money Entertainment/Cash Money Records
21. "Ice Melts" Feat. Young Thug
Preliminary Publisher Information:
Sandra Gale/EMI Pop Music Publishing (GMR), J. Williams Publishing Designee, J. Priester Publishing Designee, L. Griffin Publishing Designee
Written by A. Graham
Written by J.Williams
Written by J. Priester
Written by L. Griffin
Produced by Supah Mario
Produced by Symbolyc One
Recorded by Harley Arsenault for Evdon Music Inc. at Sun Studio, Puteaux
Young Thug Vocals Recorded by Charles "Bricks" Driggers at NRG Studios, Los Angeles, CA
Mixed by Noel "Gadget" Campbell for Evdon Music Inc. / T.O. Music Group at SOTA Studios & Studio 306, Toronto, ON
Miscellaneous Credits:
Young Thug appears courtesy of 300 Entertainment / Atlantic Recording Corporation
(P) 2017 Young Money Entertainment/Cash Money Records
22. "Do Not Disturb"
Preliminary Publisher Information:
Sandra Gale/EMI Pop Music Publishing (GMR), 1damentional Publishing LLC/ Sony/ATV Tunes LLC (ASCAP), Ritter Boy (ASCAP), Mavor & Moses Inc./Kobalt Music Publishing (ASCAP), Snoh Publishing Designee, Levin Kali Publishing Designee
Written by A. Graham
Written by M. Samuels
Written by A. Ritter
Written by N. Shebib
Written by Snoh
Written by L. Kali
Produced by Boi 1da for 1da Boi Productions
Co-Produced by Allen Ritter for Ritter Boy, LLC
Additional production by Noah "40" Shebib for Mavor Moses Inc.
Recorded by Noel Cadastre & Harley Arsenault for Evdon Music Inc. at Metropolis Studios, London UK & Fairmount, Germany
Assistant Recording Engineer: Aaron Ahmad at Metropolis Studios, London UK & Fairmount, Germany
Background Vocals: Snoh
Mixed by Noel "Gadget" Campbell for Evdon Music Inc. / T. O Music Group at SOTA Studios & Studio 306, Toronto Ontario
(P) 2017 Young Money Entertainment/Cash Money Records
Mastering Engineer: Chris Athens at Chris Athens Masters, Austin TX
Assistant Mastering Engineer: Dave Huffman for Chris Athens Mastering, Austin TX
(P) 2017 Young Money Entertainment/Cash Money Records
(C) 2017 Young Money Entertainment/Cash Money Records
The Women of Drake
Subscribe to XXL on