Birdman Calls Off Negotiations With Lil Wayne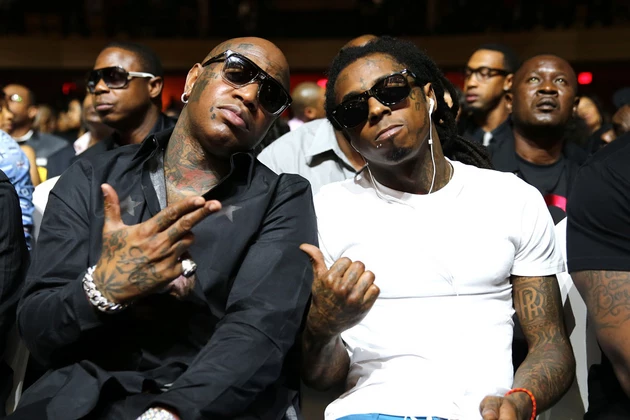 Lil Wayne keeps putting disrespeck on Birdman's name. As a result, Baby is calling off negotiations to settle his ongoing lawsuit with Weezy, according to TMZ.
According to the publication, they were close to settling the legal matter; in fact, an unnamed source says they were one meeting away from agreeing on a dollar amount. Things changed after Wayne performed "I'm Me/1000 Degrees" at the Camp Flog Gnaw Festival in Los Angeles recently and replaced the lyric "I'm a motherfucking Cash Money millionaire" with "I'm a motherfucking Roc-A-Fella millionaire," prompting people to believe Tunechi signed a deal with Jay Z.
Sources tell TMZ that Birdman is not happy about the lyric replacement, and, as a result, their legal war is back to where it began. Additionally, the source says the Hov shout-out stings even more, because Birdman and Jay have their own, separate beef. The unnamed person who is "close to the situation" says Baby and Wayne need to stop dissing each other in public if there's any chance of them settling the $51 million lawsuit.
It seems that Wayne and Birdman's relationship is past the point of repair. In a mid-October interview with HipHollywood promoting his memoir Gone 'Til November, Weezy was asked if there's any chance of him patching things up with Baby. "I'm 34 baby, I'm too old for friends … His last name isn't Carter, baby. He's not family."
Around that same time, Wayne, and avid sports fan, appeared on ESPN's His & Hers for an interview. Weezy compared his label situation to Chris Bosh's situation with the Miami Heat, saying, "It's a perfect example that you aren't bigger than the game. You're not bigger than the team, and once you're off the team, it's not—we don't care." Prior to that, Tunechi took shots at the Cash Money Records CEO on Solange Knowles' album, specifically on the track "Mad."
134 Rapper-Launched Record Labels From the Past and Present
Subscribe to XXL on