Strange Music Keeps It Independent – XXL Issue 152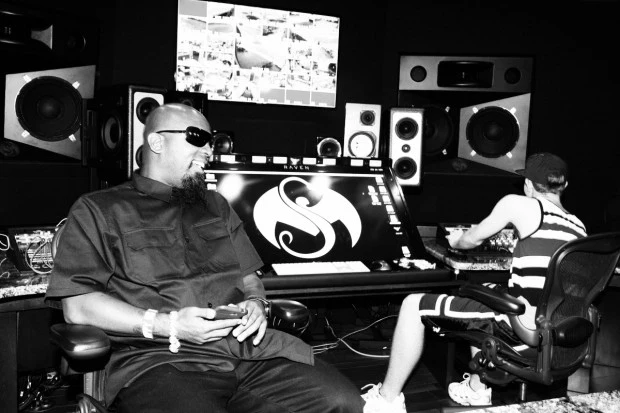 When XXL profiled Strange Music back in the July/August 2010 issue, the label was barely a blip on the rap radar. The article helped reveal the power moves being made in the Midwest by Strange. "That XXL article showed the rest of the world what was going on that they might not have known," says O'Guin. "It exposed what we'd be doing quietly all this time to the rest of the hip-hop community."
One artist who began to get especially interested in the Strange Music movement was Lil Wayne. While locked up at Rikers Island in 2010, Weezy even called Hot 97's Funkmaster Flex and said on air that he wanted to work with Tech immediately upon release from jail.
A few weeks after Wayne's claim, Tech flew to New York to visit Wayne so the two could get to know each other. Soon after Weezy's release from Rikers, Tech was on a plane to Miami to record with the superstar MC. The result was the raunch fest "Fuck Food" on Tech's All 6s And 7s and the even higher profile "Interlude" on Wayne's Tha Carter IV in 2011. "That article really validated us and built a lot of respect within the hip-hop community," says Tech. He gives the article props for upping his name recognition with artists like Nas and Talib Kweli, stating, "It woke a bunch of motherfuckers up!"
As hip-hop increasingly embraces Tech, Strange continues to forge ahead with the same grassroots business model that made it successful. Strange specializes in personalized marketing tactics that major labels have deemed largely outdated like handing out snipes to street teams and setting up point-of-sale displays at brick-and-mortar record stores. It's "infecting one fan at a time," as Tech describes.
O'Guin specifically focuses on ways to increase efficiency and ownership so as to maximize profits. Starting a video production department in-house, for instance, allows Strange to create quality content without waiting on outside editors. YouTube videos are a promo tool and generate real money. "A lot of people, in hip-hop especially, don't realize the ways to monetize that," O'Guin says and reveals how the investment in video is paying off. "We get millions, tens of millions of hits on YouTube, and that turns into a lot of revenue. If I can fuck around and make $50,000 a month in just YouTube revenue, why not?"
Even when it comes to brand extensions, Strange wants to control the entire process. For their upcoming KC Tea cognac drink, which is one of Tech's signature recipes, Strange is working directly with a distillery in France to hand-select which barrels the alcohol will be made in.
The label's crowning glory and most symbolic gem is its massive merchandise warehouse. Filled with dizzying rows of items as varied as Strange's fan base, the warehouse really has something for Strange fans of all ages from $25 artist T-shirts to neckties and baby clothes. Rappers who have visited, like Snoop Lion, Lil Wayne and Wale, have left in awe. Merchandise makes up around one-third of the label's annual revenue, between online and on-the-road sales, so quality is crucial. Strange uses only the best suppliers, off ers refunds for defective products and refuses to put out anything imperfect. Merchandise is pushed on the road with savvy V.I.P. packages. $150 will buy you a ticket to the show, meet-and-greet with the artists and a variety of merchandise to be autographed.
Merch aside, the live show itself is a big payday. Tech N9ne's Hostile Takeover Tour with Machine Gun Kelly last year broke the record for longest consecutive rap tour in history with 96 shows in 104 days. The label handles all of its booking in-house and can funnel multiple show offers from South Africa to India. Rejecting a traditional booking agency saves Strange from paying agent commissions or, worse, having an agent leverage Tech N9ne in favor of their other non-Strange artists. Touring is serious business to an independent artist. Everyone on Strange's roster is expected to be an adept live performer and, at one point or another, go on tour with Tech. Before the team prepared to embark on the national Something Else Tour, artists and staff powwowed for a boardroom-style meeting. Friendly competition was stoked as the artists were told that they would open up for Tech in the order of their recent album sales (e.g. whoever sold the least records would go on first). Then, everyone reviewed the official handbook of tour rules in which everything from curfew to dress code is regulated. Violations result in fines and being ultimately kicked off the tour (e.g. $500-$1,500 for drugs on the tour bus, $500-$2,500 for random females on the bus) while adhering can lead to bonuses. The book has been circulated externally in camps like Kendrick Lamar's Top Dawg Entertainment and incorporates issues from previous runs. Machine Gun Kelly's wild boy stage diving is now addressed in the book. As are all things Strange, the rulebook is meant to keep things rolling efficiently so as to keep the money coming in. It's simple mathematics.