Pusha T Talks Collaborating with Future for "Pain," Untitled Debut Album and Ric Flair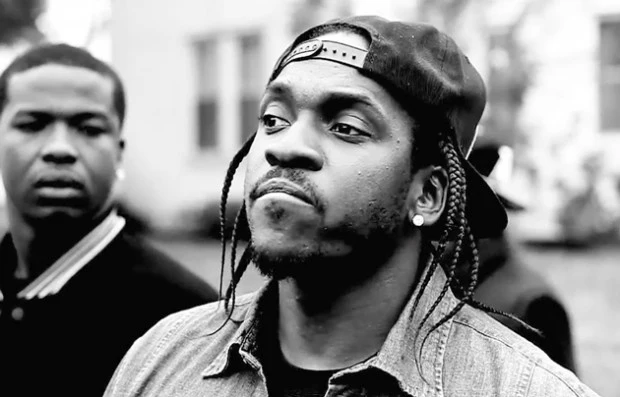 Let's talk about how this record came together. Kanye produced the beat right?
'Ye produced it and what happened was, a lot of sessions start with conversations. We were talking about what was going on in our respective hometowns, because I was just coming from Virginia. He was like "What's hot out there? I was like, Man you know what's so funny, I was in the club and Future was like rocking. It was like seven records and I said, Ye I only knew two of 'em. I'm not into knowing only two, I'm the person who's outside. I like Future and I really like what he does but, you know at the end of the day, I said if I [get him on a record] I want to use him in a different capacity. I don't want to touch a club unless it organically happens so, the track for "Pain" comes. I was like, Man this shit is so eerie, so mean. [So from there we decided] to get Future to see what he'd do. Now this is happening somewhere from 11AM to 1PM, we make a few calls and Future is here by 9PM. He walks in, he has on red clad shoes, red pants, red t-shirt, red leather jacket, red hat and black Versace shades that he never takes off the whole time. We just sitting there talking and we were like, We just got this record and wanted to see what you would do. He said, "Aight just turn it on." Soon after, the first thing he said was, "I don't never feel pain, cause I done felt too much pain." So what you're hearing [on the song] is the reference. He probably referenced it for maybe 48 bars. It was so dead on that we were like this is the record totally. Aint nobody [tell him] to talk about pain, he [just immediately started with that line], that was it and so it was locked in from that point on.
Were your verses already placed before he layed down that hook?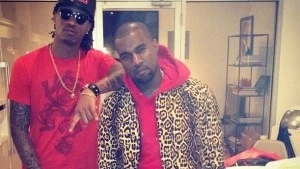 After he laid it, they were placed soon after you.
One of the things fans admire about you is your lyrical dexterity. It seems like you can't help but drop intricate lines or blanket your rhymes with gems. Like say a line like "I come from graffiti doors now the X marks the spot on my graffiti walls/My ghetto bitches ask why I say it just be-KAWS" or on "Pain" with "Pain is joy when it cries/It's my smile in disguise." How important is this to you when rhyming?
Man, it's the greatest joy when someone points out one of these lines. We call it sacrificing for greatness. A lot of times people don't get shit that you said or they don't get all the dimensions of the lines. For example, "In the kitchen with a cape on, Apron/Tre 8 on could've been Trayvon/But instead I chose Avon, powder face like a geisha."
That's a triple entendre man
Yeah, triple! That's the thing and it don't stop. Sometimes people don't go all the way through the whole thing to get it. Or they just hear pieces of it. Like, "Oh man he just said Trayvon." What about, "Avon, powder face like a geisha," you know Avon make up, Avon Barksdale. Sometimes people don't get it. So when they do, it's the best thing ever. That's where shows and performances and doing House of Blues shows come into play.
Because it's more intimate.
Yeah, when you get to see those motherfuckers, aint nothing like that. When they get those type of lines, that's what they need to understand.
So you're not worried about these rhymes going over the heads of average listeners?
You can't. I'm only rhyming for that listener anyway. I'm only rhyming for the person who appreciates it anyway. Anybody else I grab or get or begins to understand and accept what it is that I do, that's a plus. That's extras and that's cool. I'm really only rhyming for us. I'm rhyming for the people that are still listening to Reasonable Doubt and still discovering things. Those that breakdown the intricacies of B.I.G.'s "Notorious Thugs" bars, "Buy the coke, cook the coke, cut it/Know the bitch before you call your self loving it/Niggas would've been fucking it," [Laughs]. I'm rhyming for that guy. Shit I was raised on. These are my rap conversations with my rap friends.
I think it's safe to say you and 'Ye have one of the best records this year with "New God Flow". Hard bars, hard-hitting raps and Ghostface Killah.
That's it. I just said that earlier, I feel like in 2012 I released the hardest hip-hop record this year. All around this year, I feel like I really released those records and "New God Flow" is my favorite. As much as I love "Pain" too but "New God Flow" and "Exodus"—I don't know man. "New God Flow," "Exodus," "Pain" and my sleeper is the Alley Boy record "Favorite Rapper." The Alley Boy record is ridiculousness. There was a lot of gems this year. It wasn't fair.
This goes back to my first comment on these records becoming a spectacle when they release. The intricate lines get attached to you throwing subliminals at such and such, the going hard, etc.
I don't ever think that lyric driven hip-hop go out of style. I don't care what trends are going on that never goes out of style. So it's like, in regard once you infuse that in whatever it is that you're doing, I don't think you could lose man.
You hopped on a record with Ma$e on Cruel Summer–
Yeah that was dope.
How'd that come together? Did you know he was on the record before you hopped on it?
There was two things that I didn't know about Cruel Summer: I didn't know that Ghostface was on "New God Flow" and I didn't know Ma$e was on "Higher." I had no clue. I heard the album on August 28th, so I'm sitting there [in the studio] in Hawaii and they're like yeah we gon' play the album for you. So they just start playing the records, everybody in there and they're looking at my face—because they of course know. Then when Ghostface got on "New God Flow," I was done. I mean, I crowned him and Raekwon at the same time as the most timeless ever. They have the two most timeless flows in hip-hop. I don't even think it's debatable at this point.
PUSHA TALKS RIC FLAIR, GO TO THE NEXT PAGE