Yelawolf and Travis Barker Getting Ready to Release EP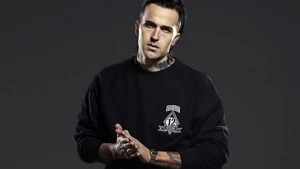 Yelawolf dropped his debut album, Radioactive in late 2011, and is now reportedly already at work on his sophomore effort. Before the world gets that, though, the Alabama rapper will be releasing a joint EP, Psycho White, with Travis Barker.
"Every time we would get in the lab, we'd knock something out," Yela recently told Billboard of the project, which is reportedly complete. "We just collaborated and… had a meeting of the minds. There's a lot of cool stuff we came up with."
Barker has immersed himself within the world of hip-hop over the last few years. The drummer, who made his name as one third of the rock band Blink 182, released his album, Give The Drummer Some, in 2011—which included collaborations with Lil Wayne, Rick Ross, Game, Snoop Dogg, E-40, Clipse, Kid Cudi, Tech N9ne, Bun B and more.
Currently, the medium of release is up in the air, as the project may be given away for free or put out as a retail effort. "I don't know Travis' situation fully, the legals of it, whether it's going to be free or sold or whatever," the 2011 XXL Freshman continued. "It'll be available. As artists, hopefully we can get it on the shelves, but we'll get it out there somehow. I'm just hyped for people to hear it."
Yelawolf and Travis Barker previously worked together on the song "Let's Go," from Barker's solo album. —Adam Fleischer (@AdamXXL)