Kanye West, G.O.O.D. Music to Debut "Mercy" Single This Friday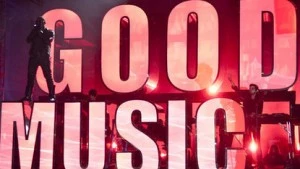 It's that time.
Earlier today, Pusha T revealed some G.O.O.D. news in regards to his hip-hop fam's upcoming compilation album.
Per his tweet, the Clipse spitter revealed that Kanye West and the G.O.O.D. Music team will be debuting the first single off their highly anticipated compilation album this Friday, the same day as the Easter holiday Good Friday.
G.O.O.D. Music single "Mercy" drops on Good Friday" bit.ly/HQl1lP

— PUSHA T (@PUSHA_T) April 4, 2012
Titled "Mercy," the single is set to feature the likes of Mr. West, Big Sean, Pusha T, and none other than 2 Chainz. This comes after the ATLien revealed to MTV's RapFix Live two months ago that he's been in the studio with 'Ye.
"One thing that people may not know is that I've been working with Kanye West for the past year," he told Sway about working with the G.O.O.D. Music general. "We have records together, we have ideas that we're planning on releasing to the world real soon."
Though there is no word on when the album will be released, "Mercy" will be its first offering. Stay tuned to XXLMag.com for more updates.—Ralph Bristout