Update: Yelawolf Hospitalized in Wisconsin, Manager Says He's Going to be Okay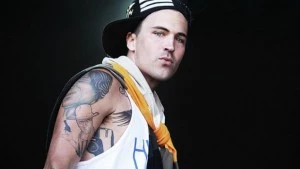 Yelawolf was admitted into a hospital in Madison, Wisconsin, on Friday (March 2) night, forcing him to cancel a scheduled March 6 performance at Saint Andrew's Hall in Detroit. But Kawan Prather, the CEO of Ghet-O-Vision Ent. (the production company Yelawolf is signed to along with Shady Records), said Yela's awaiting more details from the hospital, but that the Alabama rapper is doing fine and just needs some rest.
"He's going to be okay," KP told XXLMag.com. "He just needs to get some rest. He goes hard at these shows and is taking some mandatory rest right now."
According to the Detroit News, concert promoters for Live Nation told the paper that Yela was asked to remain under doctor's observation for a couple of days, which inevitably led him to cancel the D-town performance.
"He remains under observation for illness," a rep for Live Nation said about the Shady Records rapper, although it is still unclear what landed Yela in the hospital in the first place. "At the request of his doctor, the show will be postponed to a later date."
Tickets will be returned at point of purchase for a refund. They also will be honored at a yet-to-be determined rescheduled concert.
In related news, Yelawolf recently chatted with Allhiphop.com about his latest EP, Slumdog Bridge, and how he and UK musician Ed Sheeran teamed up for the project.
"What happened with Ed Sheeran was I got hit up and they said, 'Hey this kid Ed wants to do an EP,'" he explained. "I was like, 'What's up with his music?' I listened to his music and I was like, 'Damn this kid's music rips, but I don't know.' I didn't really know how the music was going to come out and I just didn't really know, but I was just like, 'F**k it, lets just get in the studio and see what happens.'
"I literally pulled into LA and did the whole thing in one night," he continued. "We just vibed, man. That kid is something else. He plays guitar and sings like fool, you know, and he raps. He's only 21 or 22 and its amazing that some people just get it so young. He's just going to flourish as an artist, there's no telling where he's going to be in 10 years and he's doing classic shit right now."
Yelawolf is slated to perform with his Slumerican label mates at SXSW in Austin, Texas during the second week of March. —Gina Montana