Fashawn Preps Tour With Evidence, New Mixtape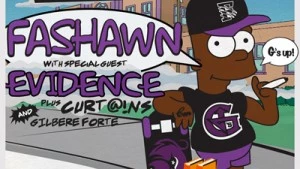 Fashawn is ready to hit the road with cohorts Evidence and Curt@!n$.
Kicking off on Wednesday, February 16 in Santa Barbara, CA the 2010 XXL Freshman continue on to make 17 more stops throughout the West Coast.
In related news, Fash's new mixtape, Higher Learning 2, is slated to arrive on XXLmag.com the same day that the tour begins.
You may recall that the Cali native premiered Ode to Illmatic on XXLMag.com last June. HL2 highlights a batch of new material from the fast rising lyricist, including the J Dilla-inspired "Closer." In commemoration of what would have been Dilla's 37th birthday, Fashawn recorded an homage over the late producer's "So Far To Go."
Consult the Higher Learning Tour dates below to see if Fashawn and friends are coming to a venue near you. —Henry Adaso
Feb. 16 – Santa Barbara, CA – Velvet Jones
Feb. 19 – Tempe, AZ – Red Owl
Feb. 20 – Durange, CO – Abbey Theater
Feb.22 – Boulder, CO – Fox Theater
Feb. 23 – Denver, CO – Cervantes
Feb. 25 – Salt Lake City, UT – Bar Deluxe
Feb. 26 – Boise, ID – The Reef
Feb. 28 – Vancouver, B.C. – Fortune
Mar. 1 – Bellingham, WA – Wild Buffalo
Mar. 2 – Seattle, WA – Nectar Lounge
Mar. 3 – Eugene, OR – Wow Hall
Mar. 4 – Portland, OR – The Backspace
Mar. 5 – Arcata, CA – Arcata Vet's Hall
Mar. 6 – Sacramento, CA – Colonial Theater
Mar. 7 – Crystal Bay, NV – Cal/Neva
Mar. 9 – San Francisco, CA – 330 Ritch
Mar. 10 – Santa Cruz, CA – The Catalyst
Mar. 11 – Modesto, CA – Fat Cat
Mar. 12 – Visalia, CA – Howie and Sons