Raekwon, The Making of "Only Built 4 Cuban Linx…"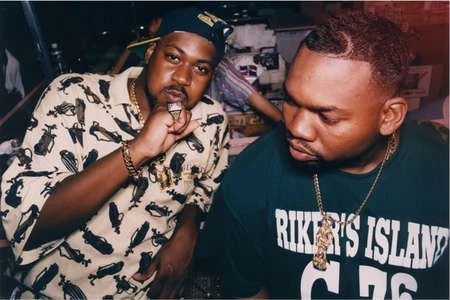 4. "Criminology"
Feat. Ghostface
RZA: That was me trying to produce like a DJ, produce a breakbeat. Ghost actually asked me to make one of those beats. You listen to old DJ tapes. That's how I made that song and he wanted his shit to sound like a break-beat. He had a rhyme; he knew was going to change the game—that was the verse that got him recognized. [Cypress Hill's] DJ Muggs called me up and was like, "Yo, he killed that shit. He ripped that shit." From that point on, he's the co-star. He wins Best Supporting Actor. Rae got nominated, maybe won or didn't—but Ghost definitely wins.
Ghostface: I wrote that verse in San Francisco. We used to carry the beat machine around a lot. We was out there a good two weeks, so RZA was making beats all day. I heard that beat and I loved that track. The year was '95. Hip-hop was still hip-hop, and we was going in. I don't know if I was drunk when I wrote that, but I know when I went in the booth, I had a battery in my back, fucking with the Ballantine Ale. I recorded a lot of my shit on Ballantine.
Raekwon: The way RZA had it poppin' back then, we would come into his spot. It was like dudes would come in on their own time and create stuff. I remember I just came in, and the beat was just pumpin'. I wrote the hook—that was the first thing I did. I think one of my mans just got hit with some heavy time around that time. I had a lot of niggas up there, too. So, it was like, Yo, this one gotta be for them niggas right here. This right here will be just for them niggas in jail. It won't be for nobody else. I just wrote it out real quick. I did three verses on that, so Ghost didn't have to come in and really do anything to it.
RZA: I wasn't making that beat for Rae. I was finished with Rae. I like having 13 tracks. I don't like having 18. I was making it for GZA probably. He was next. But then Rae heard that beat, grabbed his pen and paper, and started writing. Two hours later, it was written.
6. "Rainy Dayz"
Feat. Ghostface and Blue Raspberry
Raekwon: When we wrote "Rainy Dayz" I think we was already out of the country. We was in Barbados by the water. Some joints we [had the beats to] we went out of town with. And that one specifically, we wrote by the water. Had that good villa right off the ocean and shit. Three, four in the morning. Wind is blowing, curtains is blowing, and we just really got a chance to put it down. I think I wrote mine out there.
We just basically gave you some action on how niggas in the hood think. Like how a nigga lady think—they don't act like they there to try to bring you back from doing what you gotta do, but they try to get you caught up. We was like, This is gonna be perfect for the struggling girl who can't understand her man and he a thorough nigga. We wanted to put the girl in the skit [at the start of the song] from the movie when she said, "I sing for him and he isn't here." He ain't here, bitch, 'cause he makin' money! He trying to put some food on the table!
RZA: This is one of my favorites, if not my favorite track. It stayed on the grill for a long time. That's what we called it back then. I didn't take a song off until I was satisfied. I generally like to do 'em, mix 'em, put 'em away. This was too emotional and too real for me, too close to my personal situation. This was the life we was living, just talking and rapping and hoping. Record royalties take too long to come. We had a platinum album, but we waiting on the check to come fast, like babies wanting they food.
Blue Raspberry: I was on the microphone singing that old song by Barbra Streisand and Donna Summer ["No More Tears (Enough Is Enough)"], that [sings] "It's raining, it's pouring, my love life is boring me to tears." I was just singing that, and so then RZA started playing a track. So that's where [sings] "It's raining, he's changing" came from. That's the kind of mind state it put me in. I got a little stumped in the middle, so it's like, "No sunlight, more gunfights." When I said "No sunlight," RZA brought in the "More gunfights," which brought me into a whole other realm of the song, where I could go ahead and complete it.