Lil Wayne Launches "DEWeezy" Campaign with Mountain Dew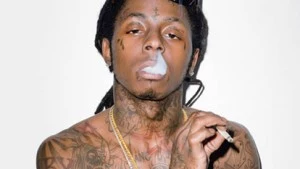 What do you get when you mix Lil Wayne with some Mountain Dew? DEWeezy!
That's the name of the new advertising partnership announced on Friday (March 9) by the Blueprint Group, a leading artist development and management company, which was recently formed via the verge of Gee Roberson's Hip Hop Since 1978 and Cortez Bryant's Bryant Management.
While full details of the announcement will be made at the South by Southwest (SXSW) music festival in Austin, Texas next week, the partnership between Weezy and Mountain Dew will include advertising, special appearances and the constructing of a skate park in Wayne's  hometown of New Orleans.
"We are excited to partner Lil Wayne's brand with a brand like Mountain Dew, a household name," said Bryant, the President of Young Money and a co-CEO of Blueprint Group, via a press release statement.
Mountain Dew's soft drinks have long been a favorite of both rappers—Busta Rhymes and Jay Electronica starred in Mountain Dew ads before—and skateboarders, which is great, considering Wayne does both.
In the past year, Weezy has shown a growing love for skateboarding, taking his board with him all over to practice tricks. According to MTV News, he's even scheduled to be the cover boy of popular skateboard magazine, CCS.
"I just want to introduce my world to their world," Wayne says in footage  done by videographer DJ Scoob Doo. "I'm trying to bring you into their world so you can see why I wanna do this and I why I love this so much."—Mark Lelinwalla