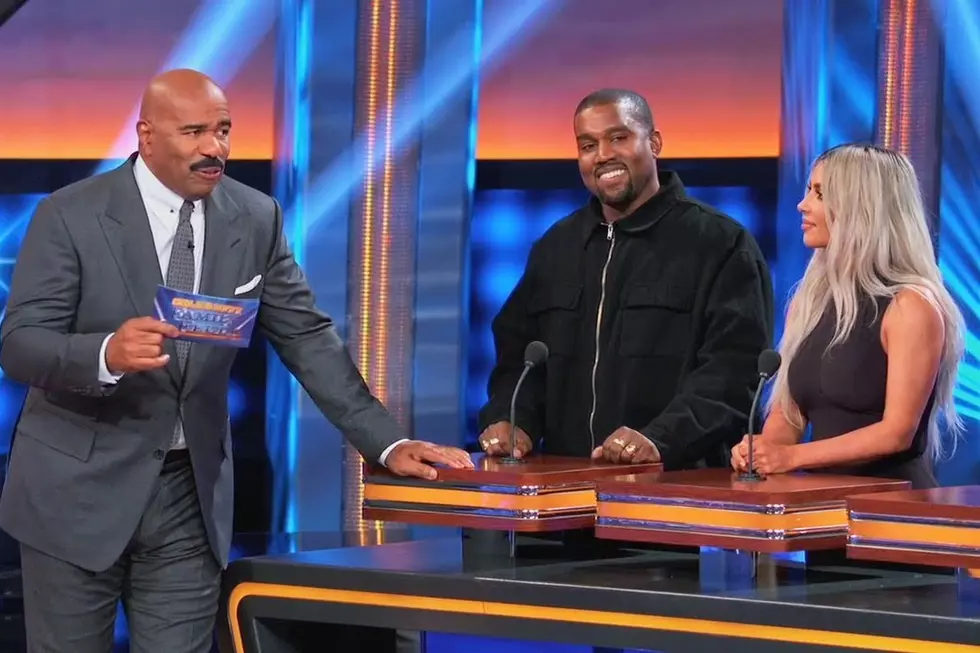 Watch Kanye West Get Put to the Test on 'Family Feud'
FamilyFeud via YouTube
On Sunday (June 10), ABC kicked off its "Sunday Fun & Games" with Kanye West and Kim Kardashian's family on Celebrity Family Feud.
Playing as the West family, Yeezy teamed up with his wife Kim and cousins Kim Wallace, Jalil Peraza and Ricky Anderson to take on the Kardashian family, which was made up of Kris Jenner, Khloe Kardashian, Kendall Jenner and their family and friends.
While the families were playing for charity, Kanye and Kim reminded host Steve Harvey that they're huge Family Feud fans with Kanye yelling, "Gotta have the Feud!" The Ye rapper quickly showed just how good he was at the show, giving a hilariously correct answer as to why Steve Harvey would be a good kisser.
Things also got a little awkward when President Donald Trump was brought up. Kendall name-dropped the commander-in-chief, who both Harvey and West have had interactions with, when asked to name a person they wouldn't want to see naked. 'Ye and Harvey had a good laugh at the answer as the audience cheered.
Unfortunately for Kanye and his family, they weren't able to beat the Kardashian crew, but sisters Khloe and Kendall allowed Kim and Kanye to take their place in the Fast Money round. Kim was able to rack up 147 points during her turn, while Yeezy earned the remaining 53 points to win $25,000 for the Children's Hospital of Los Angeles.
Kanye and Kim also showed just how in sync they are, as the two both gave the same answer for the question, "On a scale of one to 10, how sexy are you compared to the people you work with?" The couple showed off their confidence, answering "10."
Check out the episode of Celebrity Family Feud below.
See Photos of Kanye West's Different Looks Over the Years