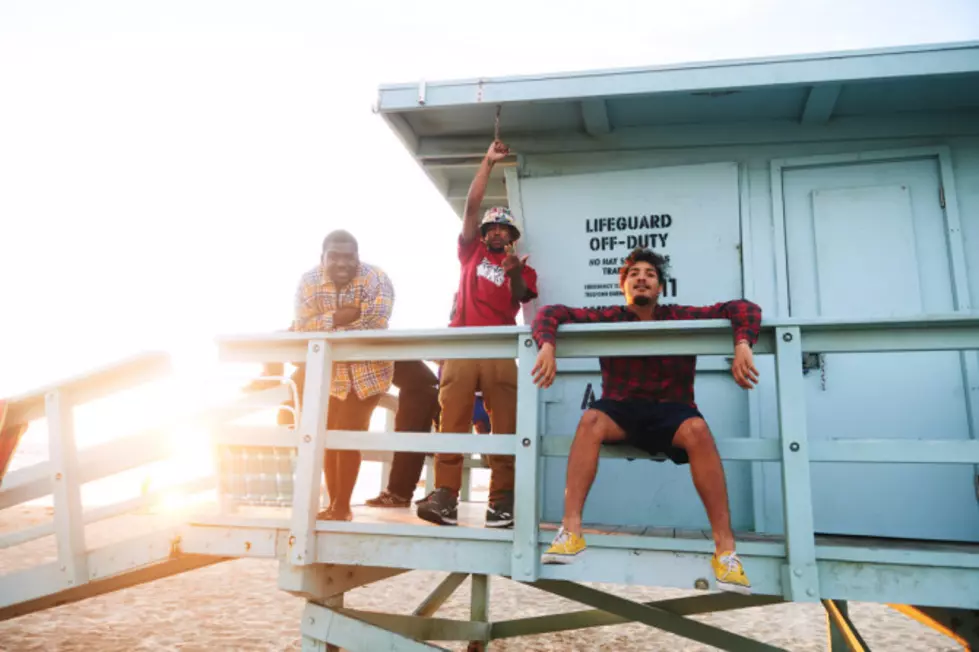 The Break Presents: Warm Brew
Press Shot provided by OPM
Hailing from Santa Monica, California, Warm Brew is one of the West Coast's up and coming rap crews. The trio consists of Ray Wright, Serk Spliff and Manu Li—all 24 years old. The group recently signed to Dom Kennedy's OPM label and released their latest project, Ghetto Beach Boyz last week. The album, which features Dom Kennedy, Tunji Ige and Arima Aderra, among others, showcases the West Coast flavor that have so many hooked on their sound. XXL sat down with them to learn a bit more about the crew. Don't sleep on these guys.—Marvin Jules
Name: Ray Wright, Serk Spliff, Manu Li
Hometown: Los Angeles, Santa Monica/Venice, Santa Monica
Ray Wright: Coming up, a lot of my family was from the South Bay, around the corner from Compton and San Bernardino. Basically I grew up on a lot of Eazy E, N.W.A and funky West Coast stuff. A lot of my family is from Long Beach, so I get a lot of that influence. You can probably tell from my music. My mother liked anything from Billie Holiday to Ace of Base. I listened to everything growing up as a kid.
Serk Spliff: A lot of old school. I grew up a big Coolio fan. That was my mom's favorite. My grandma was a huge fan of 2Pac. I listened to Carlos Santana a lot and whatever my grandpa listened to. Definitely influenced by a lot the '90s hip-hop groups, Tribe Called Quest, De La Soul...
Manu Li: Tribe Called Quest, a lot of Michael Jackson, R&B and '90s single mom stuff.
RW: My first real job was at Cold Stone Creamery. When I was there, my favorite flavor was cake batter. When we made it, it was straight out of the ice cream machine. It was still warm. It was like real cake batter. Serk and I actually worked there together.
SS: I'm a national champion soccer player. I played soccer for like 16 years, that was my sport. I gotta do it different from other niggas, I gotta play soccer. No football, no hoops, I gotta play soccer. So I did that. My senior year of high school at Santa Monica high school, I was the captain of my squad. I won defensive player of the year. Niggas went undefeated and won the national championship. I played left fullback.
ML: Before I went into rap, I wanted to be a politician, a congressman. My favorite politician is probably Henry Wallace. He was like John F. Kennedy before JFK got elected. He was like the ideal leader of the free world.
My style has been compared to:
RW: Personally, I always get Nate Dogg. I guess it's because I sing and I try to get my voice a little deeper. Some people say Ice Cube. I like to think that I'm just my own type of nigga though. As a group, people compare us to De La Soul or Tribe. We like to compare ourselves to a lot of rock stars. These niggas out here think their rock stars, but their not really rock stars. We're from Dogtown, growing up in the '90s we got to see a lot of that rock star quality in skaters and a lot of different people like that. It's not so much groups that we're influenced by, it's more the city legends that help us to be our own type of city legends.
SS: One nigga said that I sound like Hi-C, which is pretty cool and interesting. A lot of people said that I sound like Bone Thugz; well people say that all of us sound like Bone Thugz. Another one I get is Coolio-Da'unda'dogg. As a group, I've heard that we're like the hip-hop Red Hot Chili Peppers.
ML: I've gotten 50 Cent, I've gotten Young Thug, seriously.
My standout records/moments to date:
RW: Definitely "Doin It Right," it's the number one record that everybody be asking for, that's a super old track we did. That's one track that everybody brings up when they bring us up. At first we used to get kinda upset about it because we thought that we were deeper than that song, but it really did encompass what we were trying to say at the time. And "Wanna Get High" for sure. We thought the video was aesthetically pleasing. Those two songs had a certain impact, made me feel a certain way.
SS: Off this most recent album, Ghetto Beach Boyz, the "Bringin Me Home" track. I think that was a good representation of where we were during that moment. Just the way that the energy was flowing in the room at the time, it was really cool. I enjoyed that.
ML: Recently we did a couple songs with Dom Kennedy. That was a big moment. I feel like a lot of people haven't heard our music, so just to see that reaction, it was like a mix of respect and shock factor. So that was big.
RW: Honestly, I've been thinking about this since A$AP Yams death. Not because I was homies with him or anything like that, but for the longest time with hip-hop, we were just having fun. Like man whatever, we just gonna party, do this show, fuck these hoes, we makin' real money, we gonna get some food and be back in the city tomorrow. But I think it really changed for us recently with how serious the shows have gotten. We want to give people what they get out of seeing U2 live at the Staples Center. Not because I'm thinking like, man it would be tight to perform at the Staples Center. But because everybody who sits at the Staples Center, they're there to hear what we have to say. I truly believe that. I was sitting with my cousin's baby mama the other day and she was listening to the Ghetto Beach Boyz album and she was like [talks in female voice] "It's crazy because every song has a personal meaning to it." I'm like, yes, you're finally fuckin realizing that, not hearing all this trap shit. I saw a Sade quote the other day. She said that she felt like her and her group were never in style. She always felt like they were outdated, even when they were making stuff in the '90s or in the early 2000s. I feel like every time we make music, we're outdated. We're doing something totally different. We just put out a different sound. So we're just trying to shake the landscape. Just to tie it into the Yams stuff, I saw him come out to the West Coast and picked up Joey Fatts. That shit is tight as fuck. We wanna get out to London and New York and Dom Kennedy wants the same things for us. We feel like we're the spiritual type of group that can lead people and show them that there's a better hip-hop.
SS: Individually, I'm just trying to get better. It's all about progression and trying to get better at what you do. As a group, just to stake a claim. I'm thinking about sports. I went to a game at the LA Coliseum last season and I remember just seeing the greats of the Coliseum, like all the former USC players. I want people to feel that when they go to places we used to go, or places we do go. I want them to feel us. I want them to be like, man this is where Warm Brew goes. This is where Warm Brew did this, where Warm Brew did that. So just trying to stake a claim and be great. I think that the three of us together are great individually. I feel like the three of us as a group are unstoppable.
ML: We want to be the best group in hip-hop. From there I want it to be like Warm Brew-mania. I want to be worldwide. Then we want to be the best group in the world. Then we could become a thing of culture; it's like air, you can't disagree or agree, it's just there. I want there to be like toys of us and shoes, Warm Brew lighters, Warm Brew scissors. And me myself, I just want to be like Michael Jackson, Jim Morrison, 2Pac, legends. It would be cool to be like that. You can only be the best you can be, but I think I could be like that. I wanna be like the King of Pop or King of Rock. I think I could be something cool like that.
RW: Warm Brew is going to be the next cultural comfort. People will always be able to relate to us because there's three of us. There's a short dark one, a light skinned middle sized one and a tall one with braids. I feel like everyone feels a different way, but they can relate to us. They know that we're not gonna switch up so they don't gotta switch up.
SS: Warm Brew is gonna be the next nothing man. Warm Brew is now.
ML: Warm Brew is the next Facebook, the next Instagram. Warm Brew is the next big start-up company. Warm Brew is like Elon Musk and Paypal. Everyone gotta have them, everyone knows what it is. It's just there forever.
Standout: Ghetto Beach Boyz