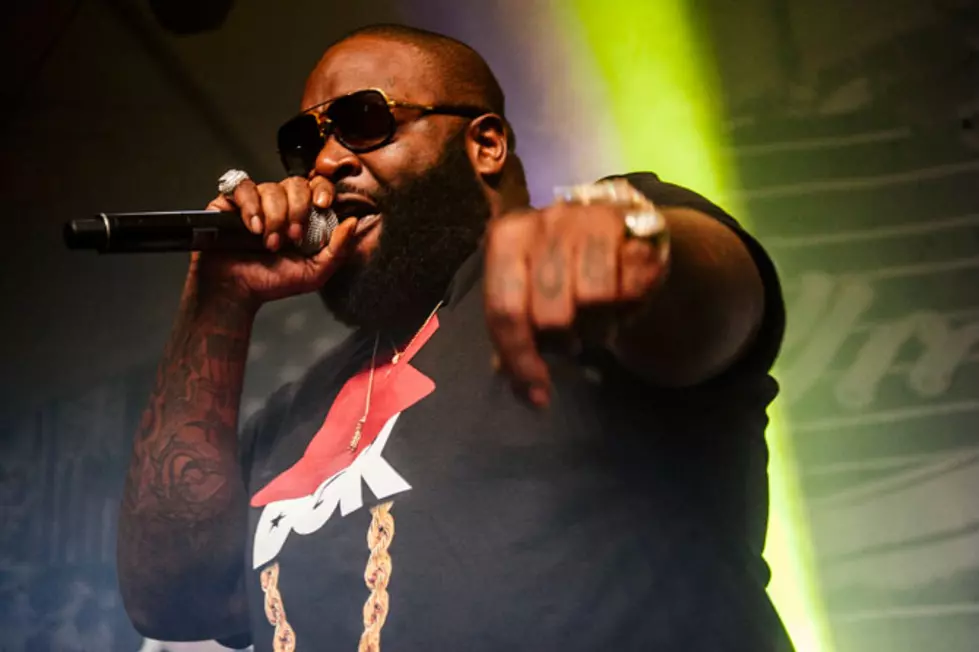 Rick Ross Arrested for Pistol-Whipping and Kidnapping a Construction Worker
RIck Ross - Photo by Ryan Muir
Rick Ross and his bodyguard were arrested this morning (June 24) for kidnapping, aggravated assault and aggravated battery charges in Fayette County, Georgia. According to CBS affiliate WGCL in Atlanta, the U S Marshals Southeast Regional Fugitive Task Force was asked to assist the Fayette County Sheriff's office in locating and arresting Ross, whose real name is William Leonard Roberts, 39, and another man, Nadrian James, 42, described as Ross' bodyguard.
WSB-TV reports that Ross was having work done on the property he bought in Fayette County and got into a fight with one of the workers, whom he allegedly pistol-whipped. Rozay was charged with aggravated assault, kidnapping and aggravated battery, while James faces the latter two. Fayette County Sheriff's Office spokesman Allen Stevens confirmed both men appeared in court this morning and were denied bond. Reps from Fayette County Court's Magistrate Office indicate that both men will have to wait in jail for a couple of weeks until their paperwork reaches the Fayette County Superior Court so they can receive a new date for another bond hearing. They are currently being held at the Fayette County Jail. TMZ reports that his next bond hearing is July 1.
Ross purchased the Fayetteville mega-mansion last year. The house once belonged to boxing legend Evander Holyfield. According to a statement sent in to AJC, Stevens wrote on June 7 his office "initiated an investigation regarding an assault which occurred at a residence on Highway 279." You can read the full press release below:
TMZ reports that Rick Ross took a Glock 9MM pistol and pistol-whipped the worker so badly, he injured his jaw and neck. Ross allegedly got into an argument with his groundskeeper and forced him into the guesthouse bedroom at gunpoint. During the heated confrontation, Rozay pistol-whipped the guy twice, messing up his jaw and neck and chipping 2 teeth. The groundskeeper's jaw badly hurt and is now on a liquid diet. Peep Ross' mugshot here.
Check out pictures of Rick Ross' mansion here.
This is the second time the MMG founder was arrested in recent weeks. Earlier this month (June 10), he was brought in on a traffic violation for illegally tinted windows and misdemeanor possession of marijuana in Fayette County. He was released later that night.
XXL has reached out to Ross' reps for comment and will continue to update as news progresses.