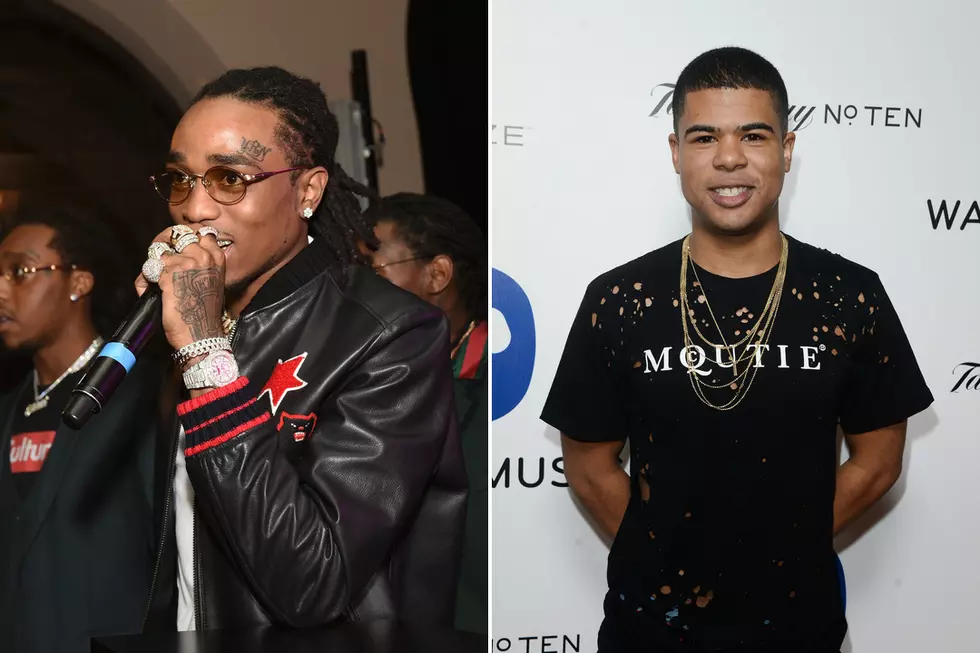 Quavo Clears the Air on ILoveMakonnen Comments
Emma McIntyre / Matt Winkelmeyer, Getty Images (2)
Quavo hoped to set the record straight on his comments about iLoveMakonnen. The Atlanta rapper and his fellow Migos members came under fire for seemingly homophobic comments about Makonnen coming out as gay. But in a new interview with Billboard, Quavo tried to make it clear that he has no ill will
"That ain't got nothing to do with no sex or gender," Quavo said. "It's 2017, and we all living."
He also claimed he was not homophobic because he worked with Frank Ocean. "When [Makonnen's] music came out I thought it was hard, so if he would've come out the same way..." Quavo said before pausing. "I got a record with Frank Ocean. That closes my case."
The controversy all stems from an interview the Migos did with Rolling Stone. In that article, the group seemed shocked that people supported Makonnen coming out as gay.
"Damn, Makonnen!" Quavo said. "They supported him?" Offset followed that up by saying Makonnen got support "because the world is fucked up." Takeoff added, "This world is not right."
Quavo tried to clarify their statements, but seemingly made it worse. Quavo was bewildered by the fact that a gay man could make music about trapping.
"We ain't saying it's nothing wrong with the gays," Quavo said. But the rapper asserted that it hurt Makonnen's credibility since the "Tuesday" rapper was "talking about trapping and selling Molly, doing all that."
The Billboard story says it is clear that Quavo is not "outright homophobic." Makonnen never seems to have responded to the original controversy.
9 Hip-Hop Artists Who Embrace Being Gay, Lesbian or Bisexual