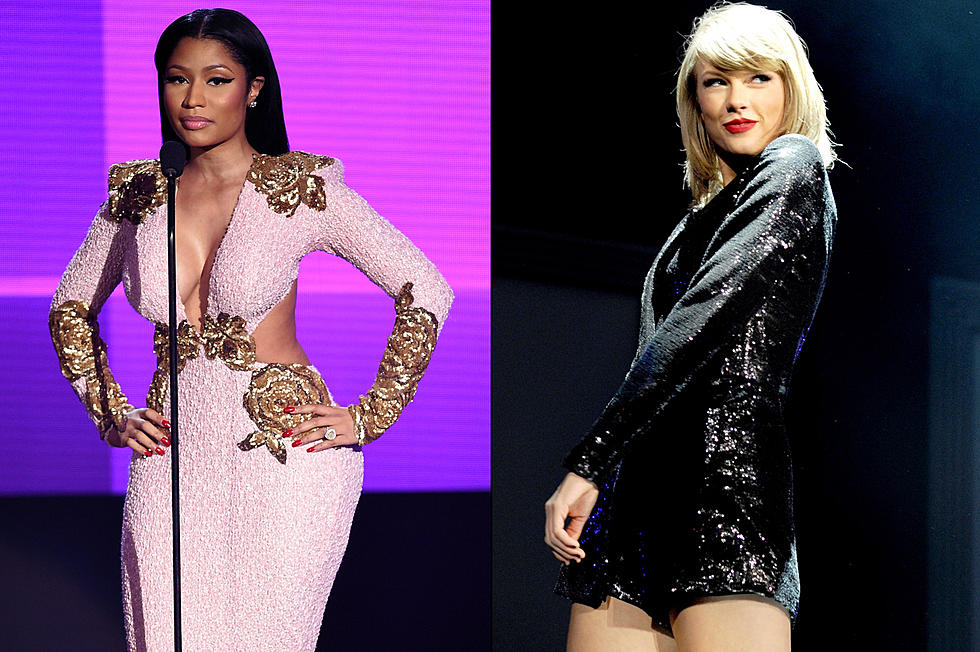 Nicki Minaj Now Has More Billboard Hot 100 Hits Than Taylor Swift
Kevin Winter / Shirlaine Forrest, Getty Images (2)
Nicki Minaj has surpassed Taylor Swift once again. The Queens rapper earned her 71st song on the Billboard Hot 100, breaking a tie with Swift for the second most appearances on the chart among women. Nicki achieved her latest Hot 100 track via her guest spot on Major Lazer's "Run Up." The single will debut at No. 66 on the chart dated Feb. 18.
Aretha Franklin is the only woman with more songs on Hot 100 chart, racking up 73 during her illustrious career. If Nicki keeps things up, she may claim the top spot before the end of 2017.
One thing that might help Nicki do just that is a Young Money reunion. Drake hinted at the possibility during a recent show in London.
"I just got off the phone with Nicki and she told me to tell y'all, 'Hello.' We might have to do something special, we might have to do some Young Money reunion shit out here this summer," he told the crowd. "I might have to bring all my friends from America, all my friends from Canada, the whole OVO. So listen, this is the last chance tonight. It's up to each and every one of y'all. If you ready to work with me, I'ma work with you. We gon' come back and kill this shit."
Nicki is back on good terms with Drake after breaking up with Meek Mill. It is only a matter of time before the two hit the studio together.
http://www.xxlmag.com/news/2017/02/nicki-minaj-drake-selfie/
15 of Hip-Hop's Weirdest Album Titles