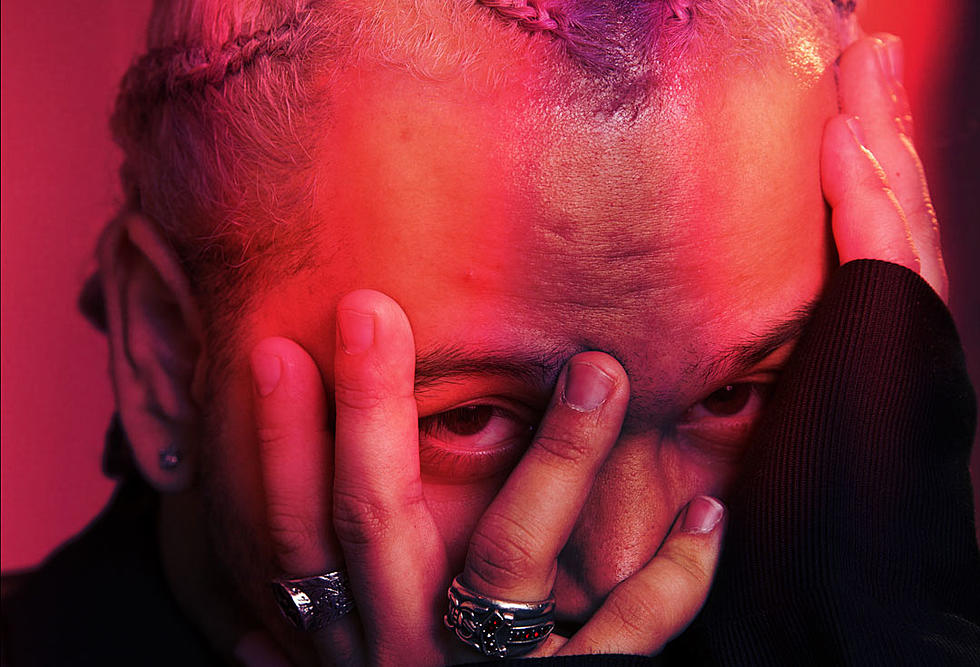 How Nessly Reinvented Himself With His 'Wildflower' Album
Republic Records
Nessly is experiencing a new beginning. It all starts with his recently released album, Wildflower. The project is his first since December 2016, when he dropped his Solo Boy Band EP. The Atlanta-bred rapper has released just a handful of tracks since, but his latest music—sonically more moody and atmospheric—unveils a revamped vibe and artistic direction.
"I don't thank God enough, I'm so ungrateful/That's my fault for treating all these hoes like angels," Nessly sing-raps on the Wildflower intro "Thank God." He says the track—which bleeds into "Ungrateful," with revved-up production from New York City-based production duo Take a Day Trip—is about grappling with internal demons. "I'm saying, literally, I need to pray more, I need to humble myself [and] I need to treat people better," he tells XXL. "It's almost like a spiritual battle I'm discussing."
The 13-track album—largely produced by Take a Day Trip and TM88—is Nessly's most in-depth project to date. Wildflower is so cohesive and descriptive of the conjoined term, it's hard to believe it was named by accident.
"The original name of the project was Wildfire. Wildfire is literally the destruction of beauty—wildfires destroy forests, plants, trees and flowers," Nessly explains while pointing to his hand tattoos—one, a lively rose; the other, a wilted one on the brink of death. "So I called it Wildfire because I was killing off the rose and just tying it all in together. [But] I figured Wildflower was the best decision in the end, just 'cause I kept saying it on accident. I was like, 'I find so much meaning in this. Maybe there's a bigger picture to why I keep messing up, saying Wildflower.' It's not even a part of my everyday vocabulary."
Wildflower delves into Nessly's insecurities, offering an honesty and openness that he believes many rappers aren't willing to explore. "Even with the cover, that's why you see me surrounded by all the girls—I feel like I disappointed all these girls," he says. The cover displays Nessly wearing a Gucci sweater as 15 ladies fawn over him with looks of hope in their eyes. "It's almost to show like, while I'm shining, the people I'm supposed to love aren't as well off as me. It all ties in to being honest with yourself and exposing yourself. And I feel like a lot of people can relate to that."
Wildflower was borne from an obsessive recording process that Nessly says resulted in more than 200 songs. "I'm like my biggest hater—I have to do everything perfect or I can't put it out," the Republic signee says. "I had a finished version of Wildflower four times already, but this is the one."
On this version, Nessly included Joji, Hoodrich Pablo Juan, Ski Mask The Slump God and 24hrs, who he's know since his teens. "I was actually part of Private Club at one point," he reveals. "[MadeinTyo], 24 and I go way back. When I was 16, 17, we were all just local Atlanta kids. No one knew us at all. I'd go over to their apartment and we'd work on music together."
Though Wildflower is only one week old, Nessly is already hard at work on an EP, which he plans on dropping before his already-complete Still Finessin' 2 album. "[Lil] Yachty and I, we have a couple songs that are gonna be on my next EP. One of them has Yachty and Yung Bans, the other one is just Yachty," he says of the tracks, titled "Slowly" and "Double-Check," respectively.
Ness has also worked with Ugly God in recent months after their Lights, Camera, Booty tour in 2017, but unfortunately the track was leaked before they planned to release it. "The song is tight, I just don't know if Ugly God wanted to support it like that. He proposed the idea, and I said 'Cool, let's do it.'"
In the end, Nessly wants people to "be open-minded and free themselves from expectations" with his latest LP. Listen to Wildflower in full below, and stay tuned for more from Nessly in 2018.
See New Music Releases for March 2018