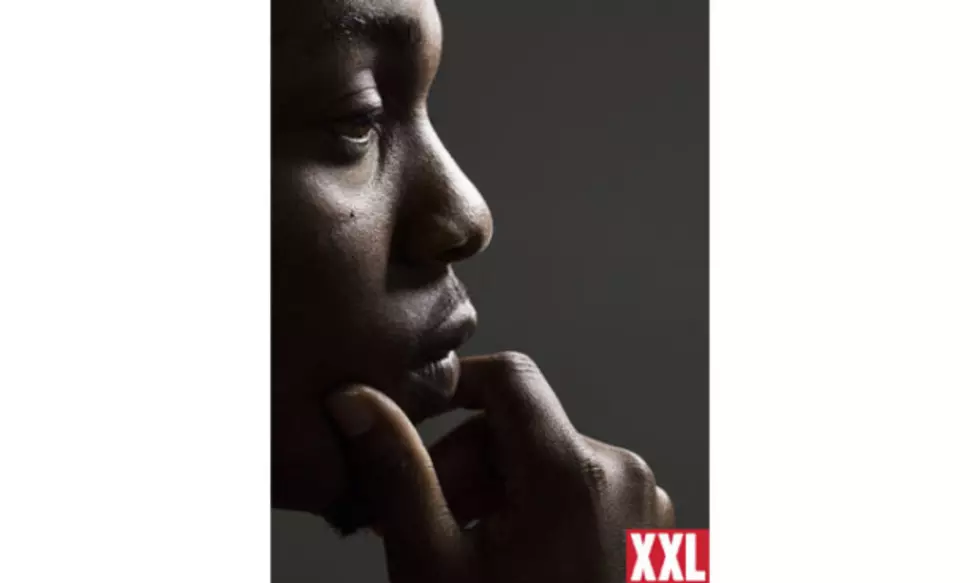 Kendrick Lamar On TDE, His "Control" Verse And Fame From XXL's Oct/Nov Cover Story
(Photo Credit: Jonathan Mannion)
Ed. Note: The following interview with Kendrick Lamar is pulled from the outtakes from XXL's TDE cover story in our upcoming Oct/Nov issue. 
When XXL sat down with Kendrick Lamar for his third appearance on the cover of the magazine, things had changed from when he appeared as part of 2011's Freshman Class. Hell, many things had changed from just last year, when he shared the front page with Dr. Dre. For starters, his debut major label album, good kid, m.A.A.d. city was released, garnering praise from everyone in hip-hop not named Shyne. Amazingly, the cerebral and introspective album went platinum during a time when that plaque is becoming more precious than the metal it's named after. Recently, he's been named as one of Forbes Hip-Hop Cash Kings (coming in at number 14 on the list with an estimated $9 million in earnings). And—perhaps more pointedly for hip-hop purists—he did this thing on this song once that had everybody talking about it all day and night for a week. As a matter of fact, the day before out interview, TMZ's camera caught up with Kendrick as he landed at LAX Airport and asked him about that thing he did on that song. Obviously, nothing's been the same since they released "Control." —kris ex
Kendrick Lamar: That's crazy.
How did you break into that world? You're like a little backpack rapper, and then all of a sudden TMZ cares about what you're doing.
That world is The Matrix. I don't understand that world—that's The Matrix.
Is it really like they say, that it happens fast? Even though you're moving real slow and then—
Yeah, that's very true. That's very true. It definitely happens fast, but not fast in the sense, saying you didn't put in the work—I've been doing this for ten years—but when that light beams on you, it happens fast from an aspect where you're doing so much every day [that] you're not really aware of the attention that you're getting, 'cause you're doing interviews, you do a show, then you do a studio, it's just a constant, daily plan, so you can't look at yourself. You can't be in the crowd looking at yourself on stage, you know. I can only look in the mirror and know I'm Kendrick, and see that same little boy I seen seven years [ago], but I can't see what everyone else sees. So more and more, I'm really unfazed by it as more and more success is hitting me and I'm not really sure [about it all]. It's a tricky thing, for sure.
What's your day-to-day been like for the past few months? Has it been mostly touring and interviews? Have you back in the studio? Do you write often? Where are you at, as an artist?
I've been on the road for the most part. But at the same time I gotta stay creative, I gotta stay writing—I'm usually writing every day. I can't miss a day without writing, whether it's a line, a verse, or an idea. I always have to have that creative flow going.
When you say you write, what's your writing process like? Are you writing or are you just thinking shit in your mind?
The process for my first album, my debut album, and even music prior to that, it's always been like 50/50. I have some songs where I just went in the booth and just got the thoughts off and I didn't want to feel like I was confined with a sheet of paper. Some records, I may sit with it and have scraps of napkins everywhere, and papers everywhere scattered, then [I'm] piecing up them ideas together and putting them to songs. It really depends on what I'm feeling at the time.
Your freestyle ability is phenomenal. I've seen it and thought, What this dude walks around with in his head, just floating around in his head, is problematic for most people. Because people do freestyle and obviously some of them are written. But you're doing the ones where dudes are pulling out the words and things and it's like, Okay, he's actually making that shit up. Where does that come from? Is that something that you practice or is that something that's just natural?
I think it comes from just being a kid back in the day and just really playing around with it. You know, we didn't know how to write verses or songs back in the day, so we just used to say crazy stuff that we seen off the top of our heads, whether we were at the schoolyard, at the bleachers or at the house—me and my cousins. We just used to have fun with it. And I guess them moments built up to me actually having the skill to do it now. Looking at people that's great at it—Kurupt is great at it, Supernatural is great at it. And I honor them because I know the ideas that are going on in their minds as they—[snaps fingers repeatedly]—come up with these words. It's definitely a gift; definitely God's gift.
"People wanted to say something anyway, period. They're just looking for the right moment to. That's how I look at it. That's it."
Speaking of Kurupt, why are you entertaining this "King of New York" talk from everybody? Why aren't  you just saying it's a Kurupt lyric? You said it, so you meant it—
I think I said everything I need to say on Peter Rosenberg, Hot 97. If people don't get it from there, then I don't feel [I need] to explain myself any more. I think they'll run it down to the ground rather than me. You know, I just wrote a verse. I think everybody's just taking it to the ground and don't want to let it go. I spoke my piece on Hot 97. If people wanna take it further than there, that's their entertainment. I'm on a whole 'nother plateau of thinking now. That was just for that moment of writing a verse. That's how I feel about it.
I'm trying to talk about you in terms of a student of art. You did this thing where you flipped Kurupt's lyrics, but you're not bringing that up. That's the shit that makes everybody look really stupid. It just shows your intelligence; if they paid attention they would know [where those lines come from].
That's exactly what it is. I feel like, when you're a student of it and you have a sense of knowing what's going on, you hold other people accountable at knowing what's going on, too—people that you respect—so you feel like there's no need to explain yourself. If I'm not gonna explain myself to people that I know, that understand it, I don't feel like it's needed to explain myself to people that's totally oblivious to it. So I just keep my mouth quiet, be a man of few words, and let everybody else go crazy and figure it out themselves, whether it takes tomorrow or it takes ten years from now.
Not only in terms of you, but in terms of what Kurupt did, there's this whole thing where you're playing with opposites—you know: West Coast to East Coast; Muslims, pork; Popes, Muslims. I think people are getting upset around the King of New York thing and not even looking at it like it's dope. Like, Are you even paying attention to what's being done? You're getting upset about one little thing and the whole artistry of that is—
Let me tell you something: This is my thing—this is what I found out through it all, from doing that verse. People wanted to say something anyway, period. They're just looking for the right moment to. They want to say something anyway. That's how I look at it. That's it.
Okay. Say I'm a rapper and we're on the same level. Say I'm one of the people you mention—no, say you mention me; I'm someone else, because I don't want to bring anybody else into this—and I say, "You know what? Kendrick mentioned me, I'm gonna go at Kendrick in a song." How do we decide who wins?
[Laughs] That's a great one. I'm gonna have to think about that one: How do we decide who wins?  You talking as far as the artists? I don't think it's ever up to the artists who wins—it's definitely up to the people every time.
But how? Because I'm hearing some responses and people are saying, "Oooh, he got at him."
It would have to be an actual battle for someone to win. I didn't make a response record to myself, or anybody else yet. You can't win if somebody didn't... I don't even know how to explain it. [Laughs] There's no winners.
But to some people it's, "Oh, he killed him because he ain't came back [at him]." There was a certain point where, Jay Z won because Nas didn't respond. When "Takeover" came out and Nas didn't respond for that whole time, it was like, "Oooh, Jay killed him." 
Then Nas came back.
Then people said Nas killed him. I understand the fun of it. When it's you guys [in Black Hippy] and you get in the room and you start going at each other because it's fun and you're getting better, there's hype and there's competition. But when you get to that stage when you're doing it on record for the people, it becomes this other thing because it loses a lot of fun. To me, it lost a lot of the fun immediately when you heard what Papoose said, because that was a dude that was hurt. Like, Your shit is coming from a really mean place; this isn't fun for you. Joell [Ortiz] went in, but Joell was like, This is coming from a fun place. And there's no difference because you know both of them—you know Joell, you know Joe Budden, you know Papoose. It was just really interesting that he took it there. 
I mean, it's 50/50—some people took it as fun, some people took it as opportunists. Huge opportunists. And more power to them.
When you say, "I wanna murder you niggas," what does that look like? "What does 'murdering' them look like?" is one of the questions I'm asking, I guess. And not in terms of "Ooh, this is what I want to do to Drake," but what is that success? Is it making better songs, is it making better albums, having bigger sales, is it having more endorsements, is it all of that, is it some of that? What is the thing that says "I won"?
Simply hip-hop—the art and the culture. Don't got nothing to do with anything outside of writing lyrics. That's what I don't want people to get it confused from. We're talking about lyrics, we talking about rhyming. And when you say the word "murder," I've been feeling that way since I was 16—I wanted to be the best at it. If I was mopping floors, I want to be the best at it. If I'm cleaning pools, I want to do the best at it. Fortunately, I'm doing rap music and I want to be the best at it. Period.
"My mindset right now, is really on some, this shit don't last forever. Something could happen tomorrow, and if you ain't putting your best foot forward today, then what are you doing it for?"
Once again, it goes back to this thing: How do we decide that? When you said that list, when you say you want to be the best at it—right off the top, there are two names on that list that aren't even… Like, lyrically? Come on. There are a couple of dudes on that list, that if we're going bar-for-bar, we have arguments here. But some of those dudes, it's like, "That's not even an argument."
That's the thing. I could have said a whole bunch of people that I like; I can't say 20 or 30 people in one song. So I'm gonna give you a variety of people of whoever that you like, or whatever these people like, whatever the case, and that's what came up off the top. And I just feel like that was a variation of what's going on today, what's going on in music, and just what's going on in hip-hop culture. It just came out that way.
Who are the ones on that list, in terms of lyrics, who you feel is your real competition? That you listen to and you're like "Okay, where's the studio?" Like, when Fabolous tweeted, "Are there any studios open?" [in response to the verse]. Who does that for you?
Them individuals on that list, man—they do their thing. I can't point out the ones in particular. But, as a whole, I feel like they're gonna get it when they got in there [into the recording booth] and hopefully it's like that forever. The way I think right now, my mindset right now, bro, is really on some, this shit don't last forever. Something could happen tomorrow, and if you ain't putting your best foot forward today, then what are you doing it for? I'm thinking that way.
What's in the future for you? What does your next six months look like in terms of what you can say you're formulating now? Where are you resting your head—movies, TV, another album, more guest appearances? Are people still calling you for guest appearances? I would think that people would be like, "Let's not fuck with him right now."
Nah, people still show love, man. I appreciate everybody that respect my talents and feel like I take a song to the next level or I can just bring an idea, that's what it's about. But, for the next six months, I think the Kanye [Yeezus tour] will be the last run, that tour. I ain't focusing on no movies. [Laughs] Not yet. I want to focus on the music, stay on the music. I'm just gonna lock back in. Lock back in and get these thoughts off.
I read somewhere that you were working on turning good kid into a screenplay?
Yeah, that's been going on in my daily writing, as well. The thing about that is, I don't like to really be conflicted with anything else. If I'm gonna dive into something, I'm gonna go 110 percent. There's so much other things going on. I don't really want to half do it. I want to really devote my time to making it the best visual it can possibly be—whether it's a movie, whether it's a short film, whether it's a commercial, who knows. I really just wanna devote my time.
Are you planning to write it, direct it, or just narrate it?
I think all them ideas came up in figuring out how I'm gonna do it. [Giggles] I have so many ideas, man. I think the biggest thing for me is narrowing it down—which angle I'm gonna take to it, as far as the things you just said. So that's the stage I'm in right now.
Where do you live out here now? You moved out of Compton, right?
I'm in LA, still in LA County. I don't think I'll move too far from LA County. I'm probably like 20 minutes, 15 minutes out from the city. LA County is still Compton, Long Beach, Watts, West LA—everything is still 15 minutes away. I want to be stationary still, I didn't want to go and move out to the country or nothing like that. I still got all my peoples, man. I got a lot of people to look after—that's just a responsibility I have on myself; that's how I look a it. I don't wanna be too far.
Now that you have a spot, is it like, This is the crib I'm having for the next ten years? Or is it, This is the crib I'm having for now?
Yeah. I'm terrible at that. This is for now. Anybody that know me, know I'll sleep anywhere. I'll sleep in this corner right now, you feel me? Nah, this ain't one of them dream houses. I can do that [financially]. If I was 17 years old, I'd spend all my money on a motherfuckin' big-ass car and a big-ass motherfuckin' house, with where I'm at [monetarily]. But I'm 26 years old, I'm a little more wiser.
"Sometimes things don't go as planned when you get in there and get in that booth. Sometimes, you might have the craziest song in your head, [and] as soon as the first words come out that shit is trash. That's the tricky part about it."
For some people it's the other way around. It's like, I'm older, so the first thing I'm gonna do is buy a house. I got some place to live, make sure it's paid off.
You wanna make sure it's right and not just want to fall into the dollar signs or the looks of things, because that shit can be a burden.
You definitely need something you can maintain. You don't want to get that Dr. Dre-sized house with a pool if you don't got that Dr. Dre-sized bank account.
And that Dr. Dre-sized house with a pool is something serious.
Yeah, and his maintenance fees is like someone else's mortgage.
I'll tell you this: I think my second studio session with Dre, we were at the house recording—this is one of his places—and I said, "Man, this shit is crazy here. I can't wait to get one of these." He said "Oh, that's the easy part. You could get it. Matter of fact, you probably can get it within the next year. The hardest thing is keeping it." And that totally flipped my whole way of thinking, you feel what I'm saying? People forget about the whole back end of everything and keeping it up and making sure it's right, as far as taxes, utilities. Right there, when he told me that, that's when our whole relationship switched. It wasn't just us in the studio working, he became almost like a mentor as far as off-the-record talking about life situations and the mistakes I don't need to make being a new cat in the business.
What are the thoughts for the new album, next album, future album? Wait—is there a Black Hippy record coming? Yes? No? I'ma hear a different answer—
Every time. But, for me, [ScHoolboy] Q got the answer. [Laughs] I know everybody hate us right now. [Laughs]
I'm more interested in a new Jay Rock record.
As you should! He's a monster. That guy is crazy. He be in the studio, that's all I could say. I can't speak for nobody else's project.
You can't speak for nobody else, but you can speak for yourself. What's your future thoughts of—
Back in the lab. I think once I get in there, the moment I actually get in and lock in, then I know my full direction of where I'm at, mentally. Right now I'm just in the air. I'm in the air. I just got ideas and things, but once I really, really put that focus in there...yeah.
So you don't have any direction and vision right now?
I got a idea. But one thing about being an artist, man, sometimes things don't go as planned when you get in there and get in that booth. Sometimes, you might have the craziest song in your head, [and] as soon as the first words come out that shit is trash, you feel what I'm saying? That's the tricky part about it. It's all about having the right timing and the right vibe when it's time to lock back in. If any artist, rapper, singer, they tell you any different, they lying. Everybody gets that, for sure. It has to be a full package. I have to be confident about it before anybody else is, and it has to feel real to me before it feels real to anybody else.
I feel like you don't write in a linear way. Your verses always have different sounds, different voices, different tempos, different timbres, different kinds of nuances and feelings and textures to them. I don't think you do straight 16's. I think anyone who pays attention to that sees it's obviously a guy who doesn't make plans too well. You kind of do shit on the fly.
You're definitely right about that. It's definitely not a traditional structure, as far as me writing it; from the writing, to the producing of the record—I'm hands on with everything—from mixing the record, it's definitely not traditional for a new artist. [It's usually] that you give a beat to them, make three verses, three hooks, put a bridge right here, talk on the outro right here. It's definitely not that. It's a little bit more a vibe than anything.
What is your relationship with TDE? What's that been like?
I started with these dudes in the studio. These are some cats that nobody placed you with. A lot of times, people place you with artists. Nah, these the cats I've been with since Day One, so their success is my success, my success is their success. We all in a good space.
"Bring everybody. Everybody. Dom Kennedy, Nipsey [Hussle], Problem, G Malone, Bad Lucc, Maestro, Lady G, Casey Veggies—I could go forever, only because I know these is the people that really dedicate their lives to this music. They are the best artists, I feel like, in hip-hop, in music."
You guys still record out of that same studio?
Same dungeon. I gotta get at least a few songs off when I come back. I'm not there as 100 percent as I was back then, but when I do get a chance, I gotta get something up in there—just to have that vibe and that energy. Because the hunger is still there. Going back in that small little space, the hunger is still there and you can feel it when you walk in.
How much of your success do you attribute to the guidance and the rules and the regimen of the TDE in the studio, you can't leave until you finish [philosophy]?
It's hand-in-hand. Just as much success as me writing a hit song. The rules of it, coming in the studio and knowing ain't no time is wasted. Top Dawg giving us the game: This opportunity don't happen for everybody, homey. On some real shit, you could be right back in the streets. This opportunity right here, this ain't nothing to play with. So the regimen of just being a artist and not taking nothing for granted and having Top Dawg as a mentor, Punch as a mentor, Dave Free as a brother in this—it goes hand-in-hand with me writing songs, because these the cats that recognized the talent and the potential, but they're also aware of how I need to play my cards. I'm already aware of it too, but you always gotta have people that have your best interests around you, man. That's how we've been rocking since Day One, that's how we're rocking now.
Where do you see the company going in the immediate future?
I think it's really about just expanding. We're a small company, man, but we said we'll take this small company and we're gonna brand it. That was Top Dawg's whole thing: Take this small company and brand it; brand these artists and brand TDE as a label. Now I think it's time to take the best foot forward and expand, whether it's endorsements, TDE films, whether it's just looking for more raw talent, keeping the culture alive with more new music. Everybody on the West has that thing about them where they're students of the game, and want to just continue to branch out from what Snoop and Dre passed to them. I think that's really the future for it right now, as far as the next year or two.
Are you all about TDE, or are you more willing to do the "New West" type of thing, [where it's like,] Let's bring everybody up?
Bring everybody. Everybody. Dom Kennedy, Nipsey [Hussle], Problem, G Malone, Bad Lucc, Maestro, Lady G, Casey Veggies—I could go forever, only because I know these is the people that really dedicate their lives to this music. They are the best artists, I feel like, in hip-hop, in music. Now that the light has panned our way, it's time for everybody to know how long we've been harboring this talent—since the '90s, since 'Pac died. If the light is panned on me, I'm gonna make sure I could pan it on as many heads as possible, because everybody needs to be heard from here. Iamsu! The Bay Area got so much talent, I can't forget that. I'm glad you said that question, because that's really the initial goal, to get the whole California, West Coast to have that same spunk we had in the '90s as far as putting out great music.
You, Q and Ab[-Soul] seem to jump on a lot of people's records. Q has a bromance with Mac Miller, but Mac also has one going on with Earl [Sweatshirt]—there's all of these types of weird different connections. But there doesn't seem to be that whole quote-unquote movement like OVO/YMCMB/MMG type of thing. It seems like TDE is still very much TDE and doesn't interact much with OPM or anybody else.
Nah, we definitely do. We definitely rock with them. I think once people start seeing the music come out and then see it on camera more, they'll understand how we're doing it, how we're structuring it. You'll definitely see it. Definitely, definitely see it. But OPM—Dom Kennedy got a project coming out right away—I don't know when this magazine will be out but it'll be October 1st [Ed. note: Kennedy's album was pushed back to October 15]. Shout out to OPM, shout out to Dom. Get Home Safely.
You know a lot about the project.
Yeah, man—I'm a fan.
But I picture yourself as being on the road—you got so much shit going on. You're probably negotiating your [tour] rider with Kanye and shit like that.
But in between that, I'm playing "South Central Love" three times a day. That's inside shit, tho. [Laughs]