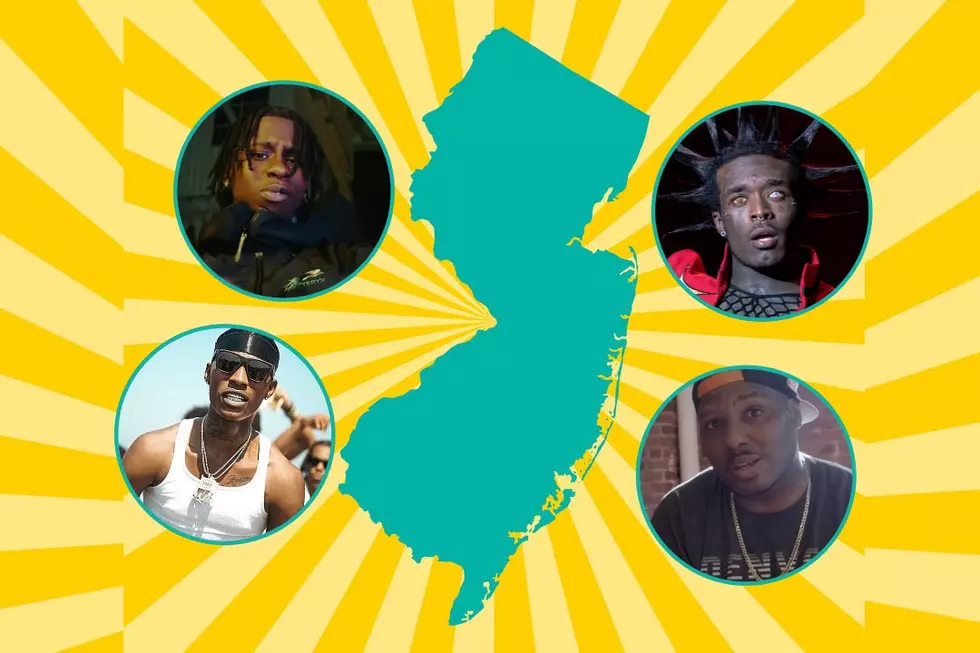 Jersey Club Music – Everything You Need to Know
young84/iStock/Getty Images Plus/Scott Dudelson/Getty Images/SoundFieldPBS/YouTube/Amanda Belowski/McVertt/YouTube
Jersey club is the latest sound connecting established artists like Lil Uzi Vert and rising newcomers such as BandmanRill. The infectious, high-pitched, vocal sample-laden party music that's taken TikTok by storm over the last year has gone from the Tri-state area's pride and joy to etching its place within hip-hop's scene across the world. While the style of dance music has always contained elements of hip-hop, its prevalence within modern hip-hop itself finds commonalities in a not-so-distant cousin. Jersey club has a long, storied history that existed way before its music took over every social media platform in 2022 and beyond.
A product of Newark, N.J., Jersey club began in 1999, due to local DJ-turned-pioneer DJ Tameil, who played Baltimore club music in Newark. Both genres were born from house music, a dance genre created by Black DJs in the 1980s. DJ Tameil pioneering Jersey club was him carrying the torch for Black dance music into a new era. Another key part of Jersey club is the dances, which feels like a fusion of popping, moves popularized within dancehall and the more frenetic moves of the vogue and ballroom scene. What set Jersey club apart from its predecessors early on is that it's more bass-heavy, with the samples being sliced and rearranged into whatever the moment calls for. DJ Tameil is seen as the pioneer of that style, releasing his own EP, Dat Butt, in 2001. Tameil's spin on the high BPMs (as high as 140) of Baltimore club, the lifeblood of house and unique vocal samples and sounds led to the very sound of New Jersey, a specific musical export that they could call their own.
The sound of Jersey club spread across the nation in the mid-2000s, first through Jersey's neighbors over in Pennsylvania like Philadelphia (which also has its own club music) and New York City. College campuses up and down the Eastern Seaboard, a general love of dance and, most clearly, the internet also gave the music legs. Outside the scene, it wasn't hard to find Jersey club songs or mixes on MySpace, the now defunct Imeem or on genre-specific message boards. Couple that with various key figures within the scene becoming sought after DJs and producers, like Uniiqu3 and DJ Sliink and it becomes obvious that all Jersey club needed was time to flourish.
Up until that point, Jersey club was a known commodity, especially in the northern U.S., but there was no national hit song to attach the sound to. Cookiee Kawaii came along and changed all that with "Vibe (If I Back It Up)" in 2020. The upbeat song contained all the Jersey club mainstays, from the "Some Cut" bed squeak, pulsing drums and chopped vocal samples.
Club music fits perfectly into the modern music experience, where social media can send it into the stratosphere, especially TikTok videos utilizing clips from a song. Cookiee Kawaii's "Vibe (If I Back It Up)" is utilized in over 2 million TikTok videos, in addition to over 106 million Spotify streams. Her success is key to Jersey club's national relevance now, being used by artists from outside of the genre's home city.
Throughout his career, Drake has consistently used sounds outside of his own in his music, a type of versatility that's been a key part of his already legendary run. When he dove into the world of house music on his 2022 album, Honestly, Nevermind, early album favorite "Currents" features the drum patterns and bed squeak that have become Jersey clubs' calling card. Even with its slower pace, the Jersey club influence is clear. The same was true for is track "Sticky," which has a video featuring an appearance from Philly's 2Rare, a rapper who rose to prominence by rapping over Philly club music, similar in sound and energy to Jersey and B-More's version. "Sticky" and Currents" are the most recent nods to Jersey club from a big-time rap star, until Lil Uzi Vert came along months later.
Dabbling in a sound that permeated Philly for decades, Lil Uzi Vert dropped his song "Just Wanna Rock" last October, which changed the perception of Jersey club in the process. Already viral before it came out in full thanks to snippets of the song circulating on social media, the frenetic "Just Wanna Rock" is a departure for Uzi. Long known for his dancing skills, now he had a short, fully dance leaning hit song that was all over TikTok. At just barely over two minutes, it's primed for repeat listens. The song launched Uzi back into public consciousness and gave him a huge hit, which now sits at over 327 million Spotify streams. On top of that, the song is genuinely a win for Jersey club, as Mcvertt, the song's producer and a Jersey native whose artist name was inspired by Uzi.
An active producer and rapper himself, Mcvertt is a close friend and constant collaborator with Newark native BandmanRill, a rapper who has dubbed himself the Club Godfather. His most recent EP carries the same title because of his approach to rapping over Jersey club beats, a style he's been committed to since 2020. Clearly, he's a street rapper who likes to have fun, expressing both sides of himself through the production he chooses. Rapping on Jersey club beats is his way of paying homage to the music of his youth while also standing out from the other artists in hip-hop right now. While he's not the first rapper to come from the Jersey club scene, he is the one who's taking it the furthest right now. His songs "Close Friends" and "Bullet" have more than 11 million Spotify streams, and the "Jiggy in Jersey" series with Bronx drill rapper Sha EK has culminated in successful collabs.
Behind some of the growth of modern Jersey club is Steve Carless, President of A&R and Associated Labels for Warner Records. The Union County, N.J. native grew up in Jersey club culture and was a mainstay at local teen parties in his youth. His own background and connection to the music means he takes promoting and nurturing Jersey club seriously. "I almost feel a sense of responsibility," he tells XXL. "To ensure that this gets seen at the highest altitude and heard in the most vast places, because it's connected to my culture."
He practices what he preaches. Carless signed BandmanRill, Sha EK and Mcvertt to his Warner imprint, Defiant Records. The music executive also speaks to the similarities between drill (Sha EK), Jersey club (BandmanRill and Mcvertt) and electronic dance music. "The tempos are the same, pockets are the same, so doing remixes or collaborations or match-ups really go well," he explains.  "For me, that was like a new way of innovating how to take local music and take it worldwide."
The prevalence Jersey club's sound, both in the northeastern U.S. and across the world, has led some fans and critics to believe that it's taking over the drill scene, specifically in the Tri-state area. In reality, drill is still alive and well. Jersey club's expansion doesn't have to be at odds with the sounds of drill, as Steve Carless said. The use of drums, cadences and more exist in both styles. A good example of such is the Bronx's Sha EK, a drill artist who is more than comfortable in the world of Jersey club.
As Jersey club continues to live on, it has gained a foothold within rap. Sha EK has multiple songs that mix drill and Jersey club like "Who You Touch." Manhattan's rap crew The Sweepers are rhyming over beats that use Jersey club drum patterns over their dark drill rap, most prevalently on "WNA." Then far outside the city, Houston's Don Toliver released "Bus Stop," a club-influenced song with Baltimore's own Brent Faiyaz. Jersey club is simply evolving in new and unexpected ways, from New Jersey to the world.
See the Best-Selling Hip-Hop Songs Since 1991 Ranked