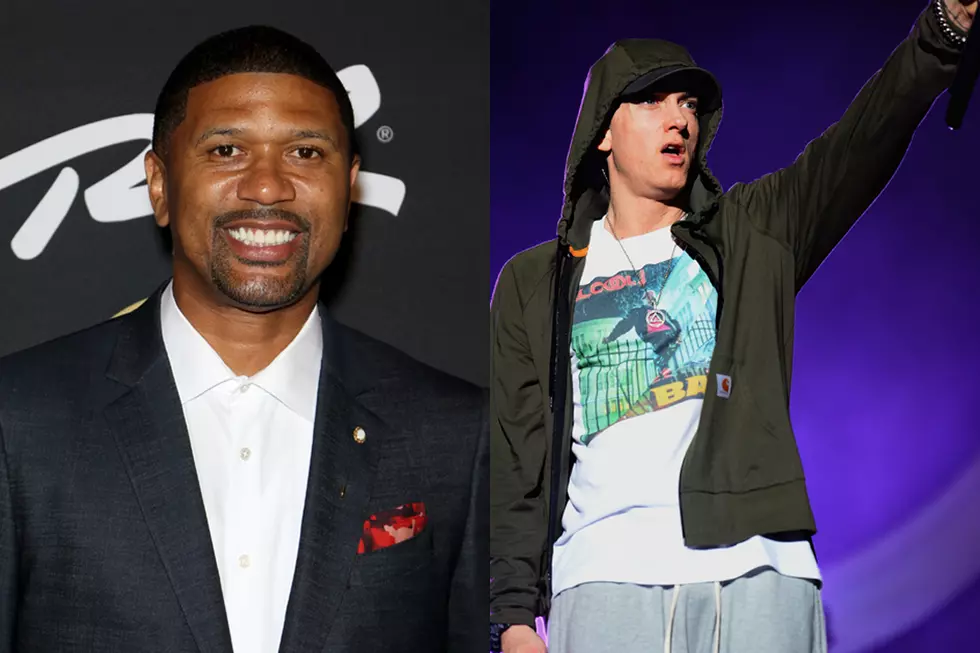 Jalen Rose Isn't Mad About Eminem Mentioning His Girlfriend Molly Qerim in "Campaign Speech"
Gabe Ginsberg/Theo Wargo
Eminem celebrated his 44th birthday earlier this week by dropping a seven-minute song called "Campaign Speech" (Oct. 19). Like many of Em's raps, the lengthy comeback track name drops a bunch of celebrities. Everyone from Donald Trump to George Zimmerman to Colin Kaepernick got a mention. But it was the detailed story of how hot Em finds ESPN's First Take host Molly Qerim that really caught people's attention.
Around the end of the eighth verse, Shady raps, "But then I think of Molly Qerim and I steer 'em in that direction and forget my ideas for them/Molly, I'm gone off you/Man, light some kush/You're my first take, I'll nail you/Can't lie, I gush/If I won you over, you would be the grand prize/I'm entranced by your looks/come and give the Shady franchise a push."
Former pro basketball player and current co-host of the ESPN podcast Jalen and Jacoby Jalen Rose happens to be dating Qerim right now. And the fact that Rose also hails from Shady's hometown of Detroit led fans online to temporarily believe the guys had some sort of beef going. But Rose decided to clear the air real quick.
"["Campaign Speech" is] really long, but I made it through the end," said Rose to his podcast partner David Jacoby during their latest episode. "And I've heard it multiple times. It's fire. Bars. He mentions Molly Qerim, and I have people hitting me up thinking that it's some sort of diss towards me. Eminem is one of the greatest rappers of all time. He's a fellow Detroiter. We are 100. That's how we do it. She's educated, talented, and beautiful—a public figure that's doing a terrific job on a really popular show called First Take. So guess what's going to happen? She deserves to have so many people giving her positive attention and props. That's love!"
"It's not disrespect if someone else finds your significant other attractive," Jacoby answered Rose.
Qerim herself still hasn't responded to the shout-out, but there's no doubt the beautiful host's name just got a lot more popular in the rap world because of Em. In case you haven't heard "Campaign Speech" just yet, listen here.
20 of Your Favorite Rappers Naming Their Favorite Rappers