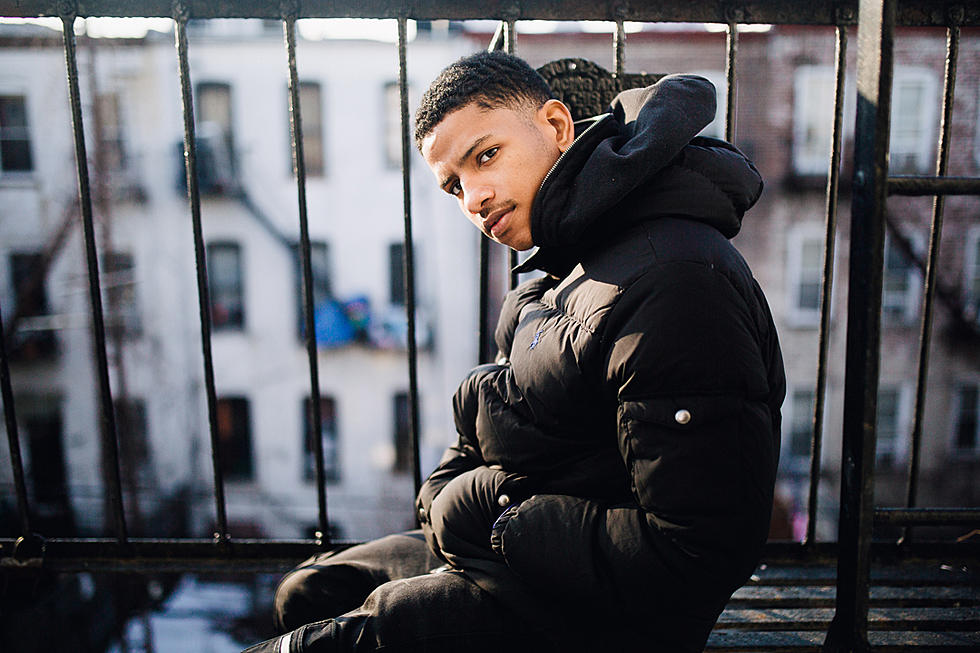 Sean Dougherty @seandshoots
Ezri, formerly known as Ezzy, just might be the future of Cleveland rap. He proved as much back in 2015, when he delivered an incredible freestyle on Sway in the Morning that dazzled Sway and brought co-host (and hip-hop OG) Heather B to tears. Soon after, Ezri starred in the independent film The Land—which was executive produced by Nas—and contributed two songs to the film's soundtrack.
Nas took a liking to the young rapper, whose vivid storytelling recalls rap's golden years. After inking a deal with the hip-hop legend's Mass Appeal Records, Ezri dropped his impressive EP be right back on Oct. 27. On the EP, Ezri shares his come-up story: graduating high school and leaving his homies who were in the streets for college, leaving college to pursue his rap ambitions and relocating to the Big Apple after he signed his deal.
"Be right back is speaking to anyone being in the situation I was in," he told XXL while in New York City. "Basically, the story starts with me graduating high school and trying to figure out what I was going to do after school. My mom wanted me to go to college but I didn't. I wanted to fully spend my time doing music."
The be right back EP is a wonderful introduction to Ezri, and serves as a fine soundtrack for a coming-of-age tale. Pay attention to Ezri and learn more about him on The Break.
Name: Ezri
Age: 21
Hometown: Cleveland
I grew up listening to: "Sitting in the backseat of my dad's car, he would play JAY-Z albums. But my first experience with really liking music was Lil Wayne's No Ceilings. I was probably like in sixth grade. Everybody in my middle school was listening to it. I downloaded the tape and was like, 'Dang, this is hard.' By that time, I was already working on music but I kept it real low. When I listened to No Ceilings, I was like, 'I got to start writing raps, bars.' Wayne's lyrical ability impressed me. Me being a reader, that was something that I liked. I was into books before I had a liking for rap or music. I was a good writer, I knew I could write well so I wanted to start writing raps. So I started getting more into lyricism and getting away from songwriting. I started out straight doing songs, like Auto-Tune, singing stuff.
"When I was 11, I wrote my first song, it was my cousin's Quinceañera. My family saw a natural talent that I didn't see at the time and was pushing me to pursue rapping. So from that point, my mom started booking me studio sessions. So when I was 11, 12 years old, I was in the studio recording songs. It wasn't like a story of a kid making music on his laptop. It was my mom deciding "my son likes this and I'm going to find the resources for it because I rather him that than hang out with his friends in the streets or wasting time." It's definitely something I'm thankful for, her coming up with that idea.
"I started taking things seriously when I was 13. That's when I was like, 'Yo, I can actually be nice and become a rapper.' Age 14, I met DJ Steph Floss—he started playing me on the radio."
My style's been compared to: "People compare me to J. Cole, people compare my musical sound to Travis Scott, which is a weird contrast. Some people have compared me to Chance. I would describe my sound as a bridge. It's the elements of lyricism and the elements of the new relevant sounding instrumentation and production."
Most people don't know: "I used to write comic books and stuff. I lived in North Carolina and Tampa, Fla. before."
My standout moment to date: "The first big thing was the Sway freestyle that I did in 2015. That really put a lot of attention on me. Since then, working with Mass Appeal and Nas, that was a big thing. But the biggest stuff is still to come.
"[Nas] is a super cool dude, super chill. I met him before I was actually signing. He really reminds me of my pops. My dad acts the same way, they wear the same stuff, drink the same cognac. [Nas] energy is something I'm used to. I recently recorded a joint to something he had. Listening back to it, the music sounds good."
My goal in hip-hop is: "My goal is to go down in history as a great. Not only just in music—I want music to propel me into everything that I want to do in life. My goal in music is to be referred to one of the greatest, for sure. That takes perfecting the craft and just working."
I'm going to be the next: "Michael Jackson is a great one. We're on two different sides of the spectrum, but the ability to make people feel good. Bob Marley is another one. Jesus, I guess [laughs]. Somebody that inspires people that go out and pursue what they're passionate about so that the world is not filled with a whole bunch of followers and people just trying to do stuff for money. So yeah, the next savior."
Follow Ezri on Twitter and SoundCloud.
Standouts: be right back
"be right back"
"Goodbye"
Sway in the Morning freestyle
See New Music Releases for December 2017