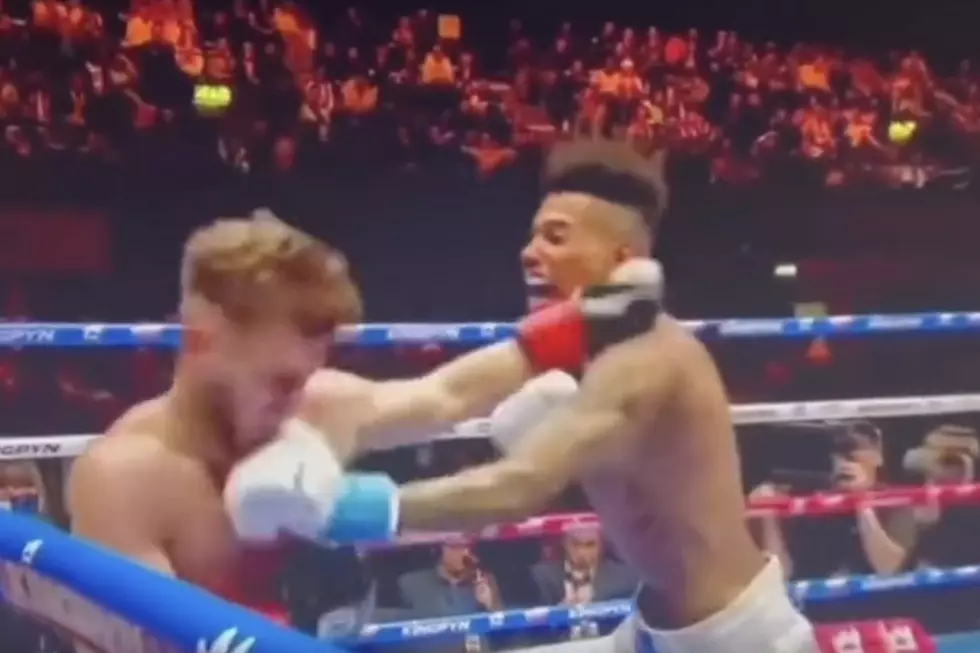 Blueface Beats TikToker Ed Matthews After Technical Knockout – Watch
bluefacebleedem/Twitter
As promised, Blueface beat TikTok personality Ed Matthews in an exciting boxing match in London over the weekend.
On Saturday (April 22), Blueface overwhelmingly beat Ed Matthews in the fourth round with a technical knockout. The fight was presented by Kingpyn Boxing at the OVO Arena Wembley in London, England.
According to MMA website Bloody Elbow, Blueface delivered solid punches at Matthews including a body shot that had the TikToker take a knee while the referee gave a standing count. But in the fourth round, the "Thotiana" rapper was throwing stinging haymakers at Matthews which sent him into the ropes before Blue started pummeling him with head shots. After a few moments, the referee had to intervene and stop the fight entirely.
Apparently, Blueface was confused as to why the referee jumped in and wouldn't let him "finish" Matthews off.
The California rapper tweeted after the fight: "Was anybody else confused about the ref saving ED? Why they wouldn't let me finish him?"
After the winning the fight, Blueface reportedly thanked the fans for attending the fight and showing their support.
"Like I said before, I'm going to take him [Ed Matthews] to deep waters where he can't swim and I'm going to be victorious," he said. "Thank you to everyone for coming out. I did this for myself, I love to fight. I've been fighting for free for a long time so if they've got money then I'm fighting."
As for who is going to be Blue's next opponent in the boxing ring, it all depends on who is delivering the bag.
"Ain't nobody worth me calling out, so tell them to call me with some money in the contract and we'll fight," said Blueface.
Salute to Blueface for winning his fight against Ed Matthews.
Watch Blueface Pummel TikToker Ed Matthews and Win His Fight Below
See 50 Lyrics Rappers Got Wrong