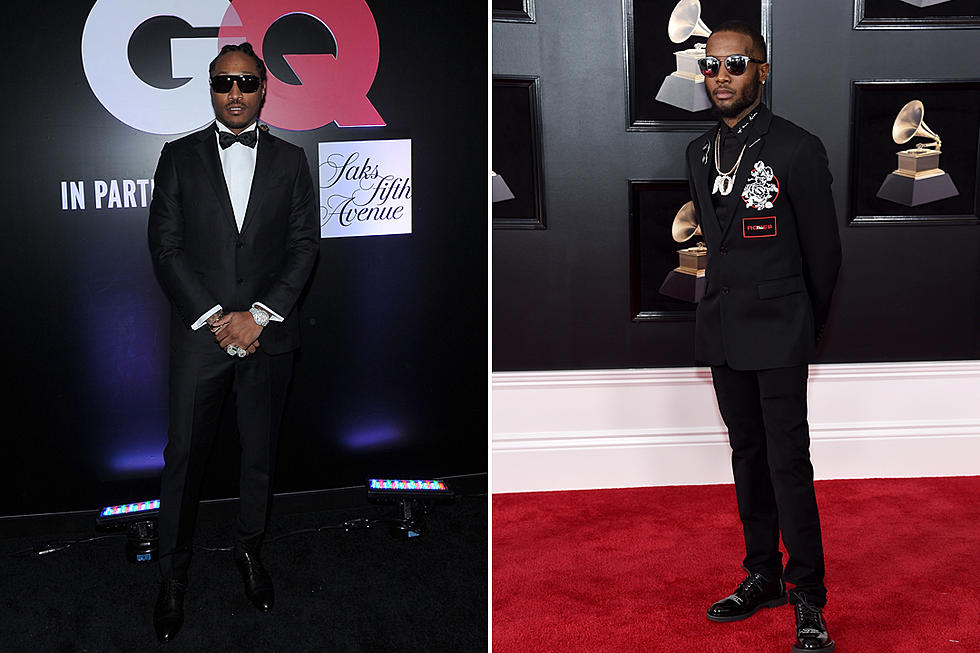 Best Songs of the Week Featuring Future, Shy Glizzy and More
Sam Santos / Jamie McCarthy, Getty Images (2)
Welcome back, friends. It's been a wild last few weeks in hip-hop; it can be pretty tough to keep track of whats going on, who's beefing with who, and who has an album on the way. XXL got you, though. Documenting the culture is what we do, and this time, we have some of the new tunes you need to hear this week. Welcome to XXL's Best Songs of the Week.
The Future-executive produced Superfly soundtrack is finally here, and it's packed with jams from end to end. The second-to-last track is "Money Train," featuring three Georgia natives Future, Young Thug and the quickly-surging Gunna. As the newest name of the fray, Gunna more than holds his own next to the established heavyweights.
Gunna is having a busy week, as he's also on Shy Glizzy's new single, "Do You Understand," alongside Tory Lanez. This is an island-tinged tune where Glizzy lays out all of the steps to be rich and successful.
Out in California, two more artists who have tasted success just dropped new music. Jay Rock, the spirit of TDE, comes back with the menacing "The Bloodiest," solidifying his stance as a rapper that truly embodies West Coast hip-hop. Many miles away is Kamaiyah, the Princess of the Bay, with the fun and summery "Addicted to Ballin,'" featuring Schoolboy Q, the official lead single for her upcoming album.
Fetty Wap has a career laced with hits, and his new mixtape, Bruce Wayne,
sounds like the work of a man who wants to lift a couple more plaques. The crawling "What We Do" is one of those songs that only Fetty could pull off, a low-key attempt at charming a girl or three at the club.
When it comes to hitmakers, you can't get much better than these two. Ty Dolla $ign and Jeremih are quite the dynamic duo, and its looking like the whole world will realize this when they release their forthcoming album, MihTy. For now, we have their new single "The Light," which effectively samples a few of your favorite R&B tracks, while being unique in it's own right.
UnoTheActivist can occasionally dabble in singing, but he decided to go another route with his new three-track EP, Limbus Part 1, today. "Bird Is the Word" has the chaos of heavy metal, coupled with Uno's unique approach to trap beats and is a fitting introduction to his style.
While we're talking about short listens, the hotly-anticipated Kids See Ghosts, the collab album between old friends Kanye West and Kid Cudi, clocks in at under 30 minutes. One of the songs from the project is "Fire," a thumping, almost tribal journey of creativity between the duo, featuring unlisted vocals from the inimitable Yaasin Bey.
Wifisfuneral's Ethernet Vol. 1 mixtape was also quite anticipated by his fans, and it has now arrived. His collaboration with Atlanta rap vet Key!, "Don't Touch Me" is a good matchup, with the duo riding over a simple-yet-effective beat, sharing their expensive taste.
We're closing this warm summer day out with yet another singer; Tory Lanez. He has a Latin album titled El Agua on the way, and the first offering features Latin trap superstar Ozuna. The track, "Pa Mi," is very smooth, and Tory sounds very comfortable singing in Spanish.
Listen to the best songs of the week below.
See New Music Releases for June 2018