Skrillex on Kanye West Collaboration: "It's Actually Going to be The First Song on His New Album"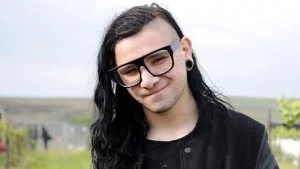 The collaboration between Kanye West and electro music producer, Skrillex, must have went well.
So well, that Skrillex thinks the collabo could wind up being the lead single off of Yeezy's upcoming sixth solo album.
At least, that's what he told The Daily Beast during a recent interview.
"I did some music with Kanye," the 24-year-old electro dance phenom said. "And from what I know, it's actually going to be the first song on his new album."
There's no exact telling if the aforementioned track could wind up on Kanye's upcoming G.O.O.D. Music compilation release, Cruel Summer (out September 4), or his next solo LP.
Producer No I.D. recently spoke to MTV News about Yeezy's highly-anticipated sixth studio album.
"I'm not working on that [Cruel Summer] album, I'm working on his album," I.D. said. "This is Kanye. You know what to expect from the family. He hasn't missed yet, so don't expect him to miss … It's what you expect and everything you don't expect."—Jakinder Singh