Royce Da 5'9″ Says Eminem Made Slaughterhouse's Welcome to: Our House Album a "Masterpiece"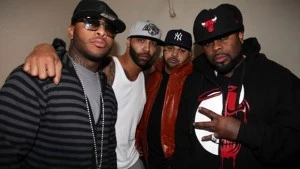 Slaughterhouse's members have been speaking highly about Eminem's involvement in their Shady Records-debut album for months now.
Back in February, Crooked I told XXL that Em was doing everything from arranging, mixing, producing and even being featured on their upcoming album. He even called Eminem the "fifth member of Slaughterhouse." And the praises didn't stop, as each of the four rappers kept saluting their boss's contribution to their LP.
Well, just because Welcome to: Our House hit stores this past Tuesday (August 28), doesn't mean their praise for Em is going to stop here.
In fact, Em's closest friend in the crew, Royce Da 5'9", recently told MTV that Marshall Mathers turned their project into a masterpiece.
"What we did was we went in there, we rapped — we all got drunk, went to the studio and rapped," Royce said. "We handed him … about 40 and he went there and turned it into a masterpiece."
"I love this album, and it's because of Marshall," Royce added. "He went in there and he basically took the songs that he felt like we should be using; did segues, skits, mixed just about the whole album, he added instruments to the songs that he felt needed extra instruments. He put his foot into it. He did just as much work as we did."—Mark Lelinwalla