Rick Ross on Possible Young Jeezy Collaboration: "Bring That Money Bag…"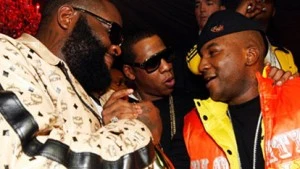 Last year, Young Jeezy voiced his opinion about being over the beef with Rick Ross, dismissing it as strictly a music thing.
Now, with Rozay currently promoting his God Forgives, I Don't album, he sounds like he's over the feud with Jeezy as well. In addition, the Bawse went as far as to leave an open door to possibly collaborate with the Snowman.
"As far as I'm concerned, bring that money bag, let's shake the world up, that's what Double M-G is about," Ross exclaimed on MTV's RapFix Live on Wednesday (August 1).
Ross explained that he never took any of the tension with Jeezy personal.
"I'm always 'bout business; that's why I'm here," Ross added. "I haven't taken nothin' personal since I came in the game and I think if you in this business and plan on having longevity in this you shouldn't take nothin' personal. Ain't nobody stepped on my Jordans yet, not out here."
The Bawse's statement comes after he expressed that the beef with Jeezy is dead following an appearance on The Russ Parr Morning Show.
"You know where I'm at and the position I'm in right now, I don't have no beef with nobody," he said. "I'm chasing that crown right now…right now ain't the time for that. We staying focused."
Last November, while also appearing on MTV's RapFix Live, Jeezy downplayed the feud as a situation of Ross catching feelings over "Death B4 Dishonor," a freestyle the Snowman dropped over the instrumental for Rozay's street smash "B.M.F. (Blowin' Money Fast)."
"With rap, it's a funny thing," Jeezy explained. "You can say things, and people can take 'em the way they wanna take 'em. But in my mind, in my heart, I just killed the verse [on "Death B4 Dishonor"]. If I killed the verse and you took it personally, then that's on you."
Jeezy added: "I felt like it was about selling records. It' not about you, about me. We could've stepped in the corner and chopped it up. So right then and there, I knew it was about records, so I was cool with it."—Jakinder Singh