Kendrick Lamar on Aftermath Debut: "This Album Won't Sound Like Section.80, Nothing Like It"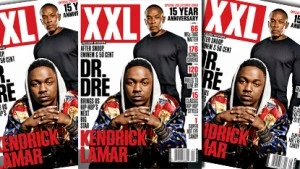 Dr. Dre's latest Aftermath signee, Kendrick Lamar, has undoubtedly made a name for himself as an MC with deep thoughts—listen to audio pleasures like "P&P 1.5," "A.D.H.D." and "HiiiPoWeR."
And while K.Dot will continue to pursue the journey behind the mind's eye, the Top Dawg Ent. rapper told XXL writer kris ex in his September issue cover that that doesn't necessarily mean his debut LP will sound similar to Overly Dedicated or Section.80.
Expect a departure, topically, if not tonally.
"I couldn't tell you what type of sound or where I'ma be in the next five years as far as music," he says of good kid, m.A.A.d city. "It's a big difference from the next project compared to the last. And that's what happened with this album. Going back to the neighborhood and going to different spots, chilling with my homeboys, put me back in that same space where we used to be, bringing back them thoughts, reminiscing how I was feeling. I got myself right back in that mode and I got inspired by that. So this album won't sound like Section.80. Completely nothing like it."
Instead, KL explained his first project with the Good Doctor will be more focused on Compton and his place in the fabled yet troubled city.
"The kid that's trying to escape that influence, trying his best to escape that influence, has always been pulled back in because of circumstances that be," says Kendrick.
For more on the former XXL Freshman's rise, history and partnership with Dr. Dre pick up the September 2012 issue of XXL, on newsstands August 14th.—Jayson Rodriguez (@JaysonRodriguez)