Rappers React to Aurora, Colorado Movie Theater Shooting That Left 12 Dead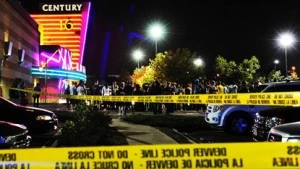 The hip-hop community is reacting to Friday morning's (July 20) heinous shooting inside of an Aurora, Colorado movie theater that left 12 people dead and 38 more injured.
According to USA Today, 24-year-old gunman suspect James Holmes walked into a crowded suburban movie theater during the opening night of the new Batman movie, The Dark Knight Rises, and opened fire on the crowd, killing a dozen innocent people and injuring 38 more. Other media outlets, such as the Los Angeles Times and Fox News, say the number of those injured are more like 50. Holmes was reportedly wearing a gas mask and body armor, when he opened fire.
Early Friday, rappers ranging from Rick Ross to Pusha T to Busta Rhymes, Ghostface Killah, Bun B Big Boi, Cormega, Waka Flocka Flame and Trae Tha Truth have all been weighing in on the horrific act, sending their heartfelt condolences and prayers to the family members of the lives lost and injured.
"My condolences and prayers go out to the victims and families in the #theatershooting #ColdWorld," Waka Flocka tweeted.
Trae Tha Truth re-tweeted Waka's comment, before tweeting himself: "Prayers go out to The Victims In Colorado Shooting… Their Family, Kids and Loved Ones….."
Bun B called the disgusting news, "so sad and crazy," while Rozay simply re-tweeted a message from NFL player and friend Chad "Ocho Cinco" Johnson: "My prayers and condolences to the victims and their families in Aurora, Colorado affected by this terrible tragedy…"
Rapper Cormega doesn't think the nature of the movie should be blamed for this act of senseless violence. "To all the comprehension challenged people NO I DON'T THINK BATMAN CAUSED THE SHOOTING! I did'nt think Boyz N the hood did either!" Mega tweeted. "Name 1 hip hop or urban movie the casued 12 deaths and 50 injuries! Rap doesn't cause violence. Violence reflects conditions we live in."
The national news triggered a prompt reaction from President Obama as well. The Commander-in-Chief told reporters:
"Michelle and I are shocked and saddened by the horrific and tragic shooting in Colorado. Federal and local law enforcement are still responding, and my Administration will do everything that we can to support the people of Aurora in this extraordinarily difficult time. We are committed to bringing whoever was responsible to justice, ensuring the safety of our people, and caring for those who have been wounded. As we do when confronted by moments of darkness and challenge, we must now come together as one American family. All of us must have the people of Aurora in our thoughts and prayers as they confront the loss of family, friends, and neighbors, and we must stand together with them in the challenging hours and days to come."
Holmes is in custody of authorities.—Mark Lelinwalla with additional reporting by Christopher Minaya