Joell Ortiz Says Eminem Mixed Entire Slaughterhouse Album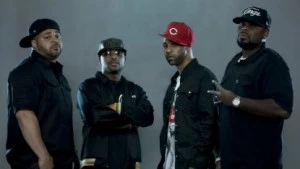 After a few delays, Slaughterhouse will be releasing their Shady Records debut, welcome to: OUR HOUSE next month. And label boss Eminem has had his hands all over the recording process.
"We really got busy this time around," Joell Ortiz told MTV News on the red carpet for the BET Awards last weekend. "The first album, we had six days to do it, this time around we're with a major label, Shady Records. Shout to Eminem. He mixed the entire record. This album is going to be incredible."
The previous album that Ortiz referenced came out three years ago, in August 2009, through E1. It sold 19,000 units in its first week. Their follow up is expected to move a substantial amount of copies more than that.
After the lengthy break in between studio albums, the group members are excited to be back with new music. "It's finally here," Joe Budden chimed in. "We dealt with a couple of pushbacks, we dealt with being creative the whole way through, putting new music out there. Now, we're here. Hopefully, the fans are just as excited about the release as we are, and we can't wait."
Back in February, Crooked I told XXL that Eminem was invested in the group's project. "Em is putting in incredible effort with this album," the Long Beach native said. "He's arranging, he's being featured on songs, he's producing. He's putting in just as much, if not more work, than everyone else as far as Slaughterhouse. If he's not featured on it he produced it, if he didn't produce it he arranged it, if he didn't arrange it…when it's all said and done, his presence is going to be felt throughout. He's the fifth member of Slaughterhouse at this point."
Slaughterhouse will be releasing welcome to: OUR HOUSE on August 28. —Adam Fleischer (@AdamXXL)