Lauryn Hill Weighs in on Nicki Minaj and Hot 97 Summer Jam Situation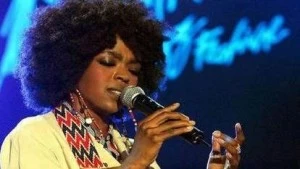 Nas shocked fans at Hot 97's Summer Jam 2012 concert at Metlife Stadium in East Rutherford, New Jersey last night (June 3) by bringing out none other than Lauryn Hill.
God's Son let Lauryn sing the hook to the Fugees' classic record, "Ready or Not," before she ripped through her own hit, "Lost Ones" and joined Nas for his performance of "If I Ruled The World."
Even that magical moment couldn't overshadow the controversy surrounding Nicki's no-show as the headliner. Lil Wayne pulled Minaj as the Summer Jam closer after Hot 97 personality, Peter Rosenberg, dissed her pop-friendly single, "Starships" earlier in the day.
Monday (June 4), Lauryn took to her Twitter in attempt to explain rumors about her performance and weigh in about the Hot 97/Nicki debacle.
"No disrespect to Nicki, but I need to clear up an inaccuracy," Lauryn tweeted to the masses. "I was not scheduled to be a special guest on her set at Summer Jam, I was invited by Nas to perform with him. I don't have details on exactly what transpired between the station and the artists, but I do support artists standing by their beliefs, and walking with integrity."
"We have to find a better way to commercially exploit music, while giving artists their proper respect," This cannot be done while taking their contributions for granted, or trying to control the scope of their growth and power through threats and fear tactics. We can do better than this, there is a better way, or else 'we' (the proverbial we) find ourselves in danger of being hypocrites!!!"
To that, Nicki responded with her own tweet.
"Thank u Lauryn. Nas was coming out on my set, u were coming out 2 perform w/him," Minaj said. "That was within my set that was going 2 continue w/foxy."—Jakinder Singh