Wiz Khalifa Busted For Weed Possession, Again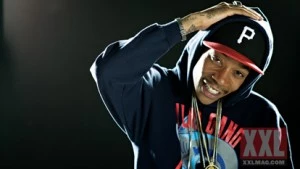 Wiz Khalifa was busted yet agin after being found in possession of marijuana.
According to TMZ, the "Young, Wild & Free" rapper—who's famously known for his 'leafy' rhymes—was ticketed last night (May 1) for possession of weed following a concert in Winston-Salem.
The Forsyth County Sheriff's Office in North Carolina reports that officers found about 11.39 grams of weed after searching his tour bus. Though he wasn't arrested, Wiz was cited and released with a court appearance set to take place at a later date. The news comes after the Pittsburgh MC was slapped with a citation out in Nashville two weeks ago (April 21), when Metro Nashville Police found 3.7 grams of marijuana in his pocket at a Holiday Inn.
The celebrity news site reported that police responded to someone's complaint about a strong odor of marijuana coming from Wiz's room. When they arrived, the police reported "inside the rolling paper was a green leafy substance consistent with marijuana."
As of press time Wiz's camp has yet to address the incident. —Ralph Bristout