Waka Flocka Flame Covers XXL's June 2012 Issue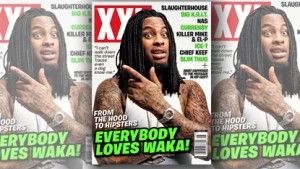 He's only been around three years and already everyone from the gangstas to hipsters love Waka Flocka Flame. The riotous rapper and architect of hits like "O Let's Do It," "Hard in da Paint" and "No Hands," graces the cover of XXL's June issue with a special revealing interview by XXL Digital Content Director Carl Chery. In the story Waka speaks on his fast rise to celebrity status, rumored controversy with fellow Brick Squad leader Gucci Mane, what it was like to live with Nicki Minaj, running a label, bringing gangsta back to hip-hop, his new album Triple F Life: Friends, Fans & Family and the December 2011 murder of Waka's good friend Slim Dunkin.
Here are some quotes from Waka's interview:
–"I don't feel like a celebrity, or this quote-unquote star everybody talk about. I guess Waka Flocka like a job, honestly. I'm at my job right now, so I gotta do it to my fullest.
–"I got a whole label, man. We fire. We the new Wu-Tang, Roc-A-Fella. We what these labels are trying to create right now. We the new Cash Money. Squad! Flockaveli was the return of gangsta. I brought gangsta back, man."
–"I'm a hipster in my own sense. My little brother's a hipster a little. Like, he's a real fuckin' hipster. Like, a rock-star hipster, so I fuck with 'em. U grew up fuckin' with 'em. So it don't matter. I'm with that. I smoke harder than them no matter what. I'm a "Flockster."
–"Dunk died, I couldn't do shit four months, almost five moths straight. I couldn't stay down long forever, cause bills gotta be paid, mouths to be fed. But that shit took a toll on us, man. Like right now, from December to fuckin' April…That's how long it took me to bounce back my nigga. That shit crazy."
Also in the issue XXL catches up with Slaughterhouse, Big K.R.I.T. Nas, and Killer Mike & El-P to talk about their new albums. Ice-T discusses his documentary Something From Nothing: The Art of Rap, and XXL explores the social conscience or possible lack of it in today's hip-hop lyrics. Plus much more.
The June 2012 issue of XXL hits stands nationwide on May 29. In addition, there will be an Atlanta and New York City performance in conjunction with the release of the issue. Dates will be announced soon.—XXL Staff (@XXLStaff)