Tone Trump Talks Signing To Young Jeezy's CTE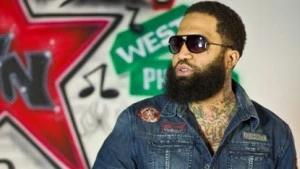 Young Jeezy's plan is for his CTE record label and roster of artists to take over the rap world. Well, the Snowman just officially planted his flag in Philadelphia. The West Side of Philly to be exact. Over the Memorial Day Weekend holiday, Young Jeezy announced the signing of City of Brotherly Love upcoming MC Tone Trump.
Trump says he been signed for a couple of weeks now, but it wasn't revealed to the world until Jeezy, surrounded by his musical family including Freddie Gibbs and Slick Pulla, chose to tell everyone at club Amnesia via a toast.
"Snow bought $12,000 in [Moet] champagne, it was all rose except one bottle of Ace of Spades," Trump said today at the XXL headquarters. "He gave me the bottle of Spades. We did the toast, welcomed me to the family. Crowd went off. It's been whirlwind man."
Tone says don't except a long lapse in between the signing and hearing new material from him. He plans to release a song called "Real Niggas" early next week. Jeezy and Freddie Gibbs are featured on the track.
"'I'm the newest member of CTE," he said "I was in Miami for four days I didn't even see the beach. Big homie, his work ethic is crazy. When we didn't have events to go to, from 10 in the morning until seven in the morning turning up. We did a bunch of new records. I'd rather be working than partying."
Late last year, Trump and Jeezy collaborated for the first time on the celebratory "Afghan." The record hit the net in October.
"When he did the verse for 'Afghan,' wasn't no business," Trump clarifies. "He didn't charge me. He was in the middle of finishing up TM103,  it was a lifesaver. It was almost like the threw me a raft. I wasn't drowning, but I was in the water with them sharks. I was holding my own. But you know a cosign can go a long way. To get a cosign form the biggest street artist in the game and I do street music, what else could you ask for? He came to Philly [a few months ago] for a tour stop, I had been doing work with artist from CTE. Slick Pulla is my brother, [Jeezy] had been watching me work, watching me build my brand. He was telling me 'I see you, I see you.' We finally we got to the business of it."
In the wake of "Afghan" (which is a nickname for a type of weed), Trump started meeting with different record labels.  He reached out to Jeezy out of loyalty however.
"That 'Afghan' record changed my life and started getting me meetings," Trump continued. "I reached out to Jeezy and was like 'I feel like [CTE] is my home already. I wanted Jeezy to be a part of my project no matter what. If I had signed somewhere else I would want him to be my Executive Producer. He said 'If we gonna do it, let's do it right. All I ask for loyalty and you go hard.'"
Trump said the requirements were rules he followed in life anyway.
"You gonna see an instant immediate impact.," the bearded MC continued of his signing. "We got tons of records and visuals. I'm focused. He's behind me 2,000 percent. I want to make him look like a genius. How many artist get to sign with their favorite artist? My favorite artists are Jeezy and Beanie Sigel, both are my brothers."—Shaheem Reid