Shyne Talks Music and Religion at Global World Conference in Ukraine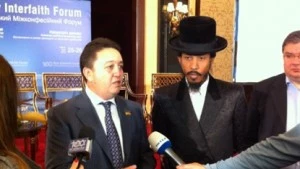 Shyne spoke on music and religion among respected leaders from the Muslim, Jewish, Christian and Buddhist communities in the Ukraine last week.
The former Bad Boy MC represented Belize, hip-hop and his Orthodox Jewish faith at The Global Winds of Change: Religions' Role in Today's World conference where he spoke on his goals as a musician.
"I use my music as a way to communicate a message of hope and determination," Shyne told the audience, according to AllHipHop.com.
Shyne converted to Orthodox Judaism, while serving a 10-year prison sentence for his role in the famous 1999 Club NY shooting that involved former-mentor Sean "Diddy" Combs and Jennifer Lopez.
"My goal is not to preach to someone to behave in a certain way or observe a certain lifestyle," he continued. "There are many paths to honor God and I try to speak in simple terms to be a good person."
Oleksandr Feldman, Ukrainian member of Parliament and President of the Ukrainian Jewish Committee, spoke Shyne's praises after the meeting.
"Shyne shows us how one can thrive in the professional arena without compromising one's personal value system," said Feldman, who also organized the event. "His story is an inspiration to young people throughout the world."
XXL reached out to Shyne but have not received comment.
Shyne did speak on his experience on Twitter last week. "In Ukraine at the parliament....Belize is everywhere" tweeted Belize's official Musical Ambassador. "Coming to America like I was king goffy!" continued the artist who's now going by the name Moses Leviy.—Calvin Stovall