Producer Young Chop Upset With Kanye West: "Needs to Respect my Grind"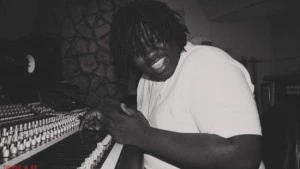 Kanye West's decision to remix Chicago up and comer Chief Keef's breakout "I Don't Like," which dropped last night (May 1), brought increased attention not only to Keef, but to the banger's producer, Young Chop. Chop, however, was none too pleased with the way that Yeezy flipped some of the beat that he had crafted, and briefly voiced his frustrations on Twitter, before expanding on his feelings to XXLMag.com.
"I just felt disrespected 'cause I didn't even hear the song before it dropped, and I kept telling them that I wanna hear the song," Chop said of the remix, which featured not only Kanye and Keef, but also Big Sean, Pusha T and Jadakiss. "I ain't know the song was changed over like that. Keef explained in another interview [that] we didn't hear the song. And then I'm hearing the song and there's different sounds in the beat, it don't even sound like the real beat. It sounded like a rock star beat, and that's not how I do it. That's not my sound. [Kanye] should have called me and asked me, 'Ayo Chop, can I do this? Can I do that?' But no. I didn't hear nothing from him. I never talked to him.
"I gotta go through a lot of people to talk to him, and I still haven't talked to him," he continued. "He ain't called my phone one time. They say he don't got no phone. Okay. I talked to Don C. I talked to Free. I talked to them two after it came out. [I said] I felt disrespected and they can take the song off the radio and delete it from history. They didn't say nothin'."
Some of the primary beat switches come during Big Sean and Jadakiss' verses, but Chop said that he was in the studio in Los Angeles with Sean when he laid his vocals, and nothing had been tweaked at the time. "Didn't nobody know [that the beat would sound different]," Chop said. "I was there when Big Sean recorded his verse, and it was the original beat. I just heard it when everybody heard it. I wanted to be the first one to hear it and, no, that didn't happen."
The Chicago-bred Chop's frustration has reached a point where he's considering trying to take legal action against 'Ye, and said that he has already spoken with a lawyer. The producer, who recently inked a deal with Warner/Chappell, seemed equally upset with the way the new beat sounded and the process it took to get to that point—a process which didn't involve him. "He didn't sit at the table and make that beat," Chop said of Kanye. "He just coulda asked me. He changed what I put my time into. I made it the way how I made it."
"The song blew up before Kanye West even thought to get on it," he said of the viral hit, which has helped Keef's stock skyrocket. "We already had a million plus views on it—without Kanye. He called when it hit a million, and now it's at two million. We built our buzz way before Kanye."
With his new deal and plenty more placements in the pipeline—he's recently worked with Sean and Gucci Mane, among others—Young Chop just wants to be recognized for his work. "Kanye West needs to respect my grind and my hustle," he maintained. "I respect him, but I don't mess with too many niggas. I gotta keep it real at all times." —Adam Fleischer (@AdamXXL)