Lil Boosie's Alleged Hired Hitman Denies Murder Under Oath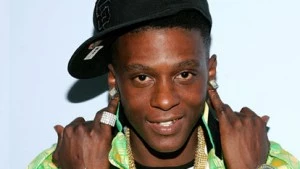 The man prosecutors say that Lil Boosie allegedly hired to kill Terry Boyd says he did not commit that murder.
Nineteen-year-old Michael "Marlo Mike" Louding took the stand Monday (May 7), day three of Boosie's murder trial in Baton Rouge, Louisiana, and denied killing Boyd, according to The Advocate. That's after Prosecutor Dana Cummings told jurors that Louding would lie when testified.
However, Louding said on the witness stand Monday that he never even told law enforcement that he shot Boyd, adding that he was at Boosie's house the night of the murder, according to KSLA in Louisiana. In addition, he testified that Boosie and Adrienne Pittman, who's accused of being the getaway driver, never left the home that night.
Prosecutors, though, maintain that Boosie, real name Torrance Hatch paid Louding $2,800 to kill Boyd.
During the trial's opening statements on Sunday (May 6), Boosie's attorney, Jason Williams, argued that his client and Boyd never had bad blood between them, but other people did have strong feelings against the victim.
"A lot of folks had some ill will toward Terry Boyd," said Williams, who added that Boyd's autopsy revealed an old bullet lodged in his body.
According to WAFB 9 in Louisiana, prosecutors are expected to bring in and present some of Boosie's rap lyrics during the case. They maintain that some of those lyrics—which include the word 187, mirk and cake (the first two being slang for murder and latter for money)—will link Hatch to Boyd's homicide.
"Torrence Hatch wrote some of those lyrics," Williams told WAFB. "There are other artists who wrote other parts of the lyrics. The lyrics have nothing to do with his crime. He's a rap artist. He has thousand of lyrics."—Jakinder Singh